Health Humanities
The American Society of Bioethics and Humanities values the intertwining of disciplines through critical and scholarly dialogue that serves to advance the delivery of just and compassionate healing practices. To that end, we hold collaborative, interdisciplinary, and interprofessional activity at the intersection of health humanities and bioethics to be the driving force behind all products and projects of ASBH.
The work of the health humanities is to examine, interpret, and illuminate the representations of human suffering and health in clinical care, public health, and scientific research, and the ethics related to all these endeavors. The health humanities can create spaces where we may interrogate assumptions, hold difficult conversations, and broaden our understandings of the human condition. Practitioners in the health humanities call us to examine the interrelationships among diverse sources of knowledge. They can help us make sense of human experience and the findings of science through creative expression and intellectual analysis.
Graphic Design Contest
In Janurary, the 2022 Program Committee invited ASBH members and nonmembers to submit original art interpreting the 2022 ASBH Annual Conference theme: Reimagining and Claiming the Public Role of Bioethics and Health Humanities. The submission period for the 2022 contest is now closed, and the winning design is currently being deliberated. Check back for more updates on this year's winning design(s)!
2021 Graphic Design Contest
In May 2021, the Program Committee was pleased to announce ASBH's second annual Graphic Design Contest. Members and non-members alike were invited to submit original art providing creative interpretations of the conference theme: Bioethics and Humanities at the Crossroads. We asked artists to explore critically the many intersections of bioethics, health humanities, and the worlds with which we engage.
Sixteen submissions were received. The winning design, the two designs receiving honorable mentions, and the artists' bios and statements about their work appear below.
First-Place Design
The winning submission, featured below, was used as the graphic theme of the 2021 Annual Conference. An adaptation of the original piece appears on the cover of the conference brochure and other conference materials.
Artist: Jason Chen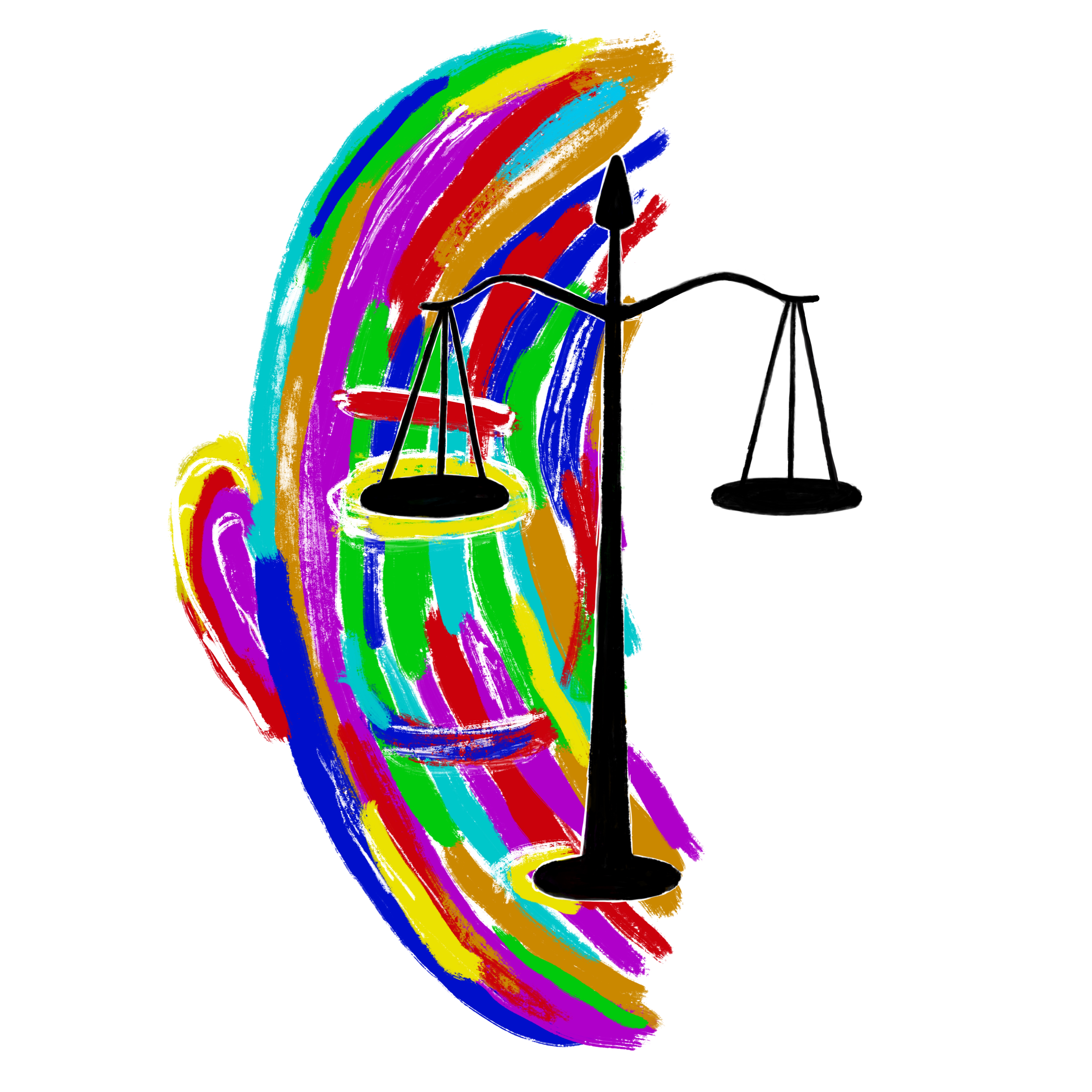 Jason Chen is the clinical ethics fellow at Ohio State University Wexner Medical Center. He has a PhD in philosophy with a specialization in the philosophy of well-being. He paint in his spare time.
About the artwork: This piece of art is composed of two objects: a human face and a scale. The former represents human culture and society, which is the object of study in the humanities. The latter represents the different values that need to be weighed against each other in the field of bioethics. Notice that the face is abstract and multicolored, symbolizing the interconnectedness of the issues we face as an international family. And notice the placement of the scale. It is an artistic expression not only of the conference theme but also of the weighing of values that takes place in our minds.
Honorable Mentions
Two designs were awarded honorable mention in 2021.
Artist: Maddie Berkvam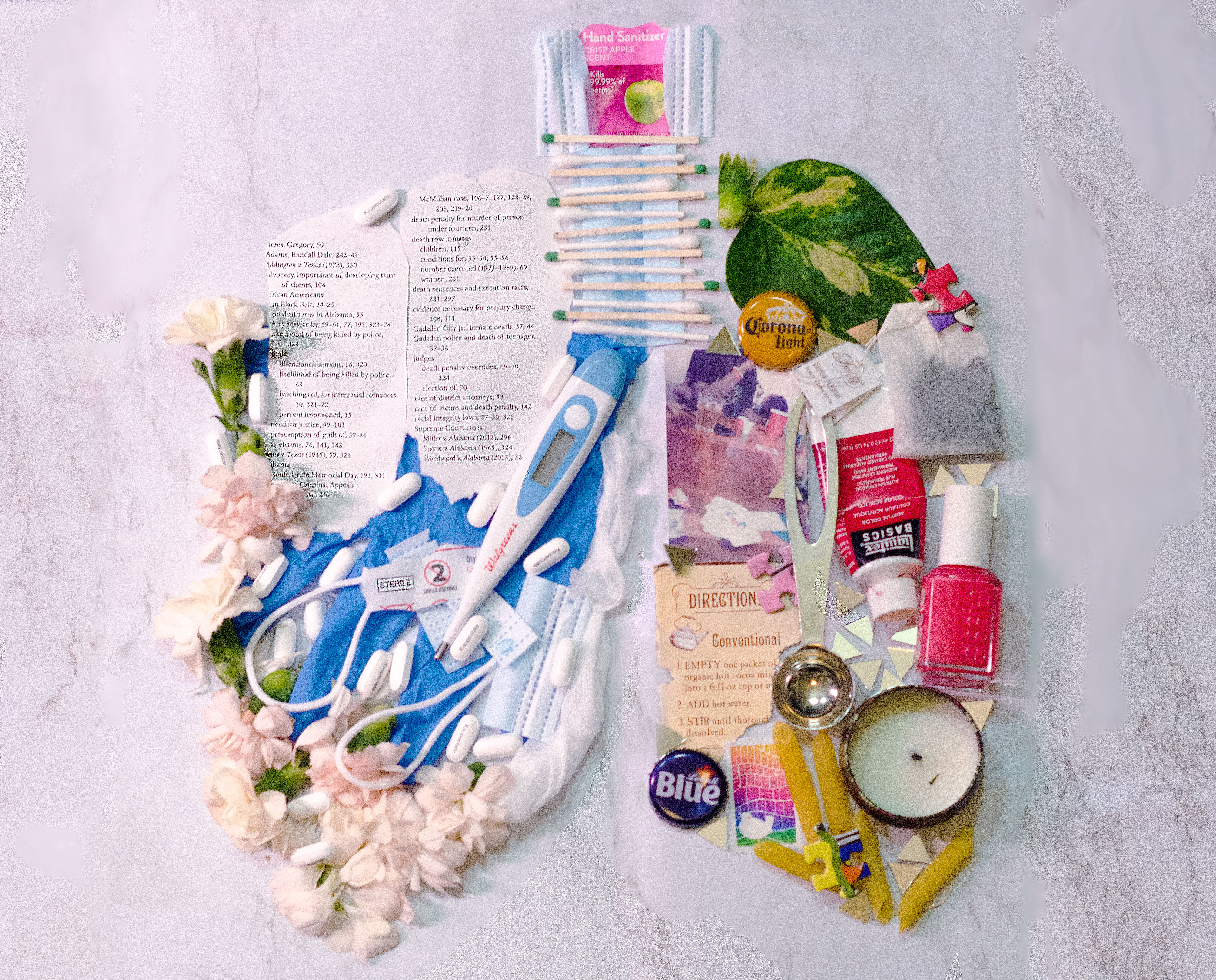 Maddie Berkvam is a first-year graduate student at Northwestern University, where she is pursuing a dual degree in genetic counseling and in medical humanities and bioethics. She received her BA from University of Wisconsin-Madison, where she studied Zoology and minored in environmental studies and global cultures. After graduating from UW-Madison in 2015, she spent 5 years in Chicago working as a medical copywriter before realizing her aspiration of becoming a genetic counselor. Upon completing her graduate education, she hopes to work as a pediatric oncology genetic counselor in an underserved area of Chicago, where she can help to improve access to testing services. She would like to use her MHB degree to serve on a hospital ethics committee and continue to cultivate her love of writing. In her free time, she enjoys outdoor adventures with her dog, pursuing new art projects, and binge-watching action movies.
About the artwork: The title of my piece is Pandemic Privilege. In it I aimed to give visual expression to this belief: that the responses to COVID-19 have awakened deep concerns about our healthcare systems, systemic inequity, and divergent worldviews, as well as awareness of the potential for new alliances and creative solutions. Pandemic Privilege represents starkly contrasting experiences of privilege and power in the wake of COVID-19, illustrated by juxtaposing the composition of the two lungs. The left lung is composed of rubber gloves, pills, dilapidated peach carnations (symbolic of celebrations and milestones lost), a thermometer, disposable face masks, and a torn index page from Bryan Stevenson's Just Mercy: A Story of Justice and Redemption, which lists a number of pertinent terms, court cases, and historical references that underscore a timeless theme of racial injustice and inequality. The right lung tells an entirely different story—one of privilege, hunkering down in comfort, guiltless indulgences, new hobbies, new memories, and new life.
Artist: Maeve Pascoe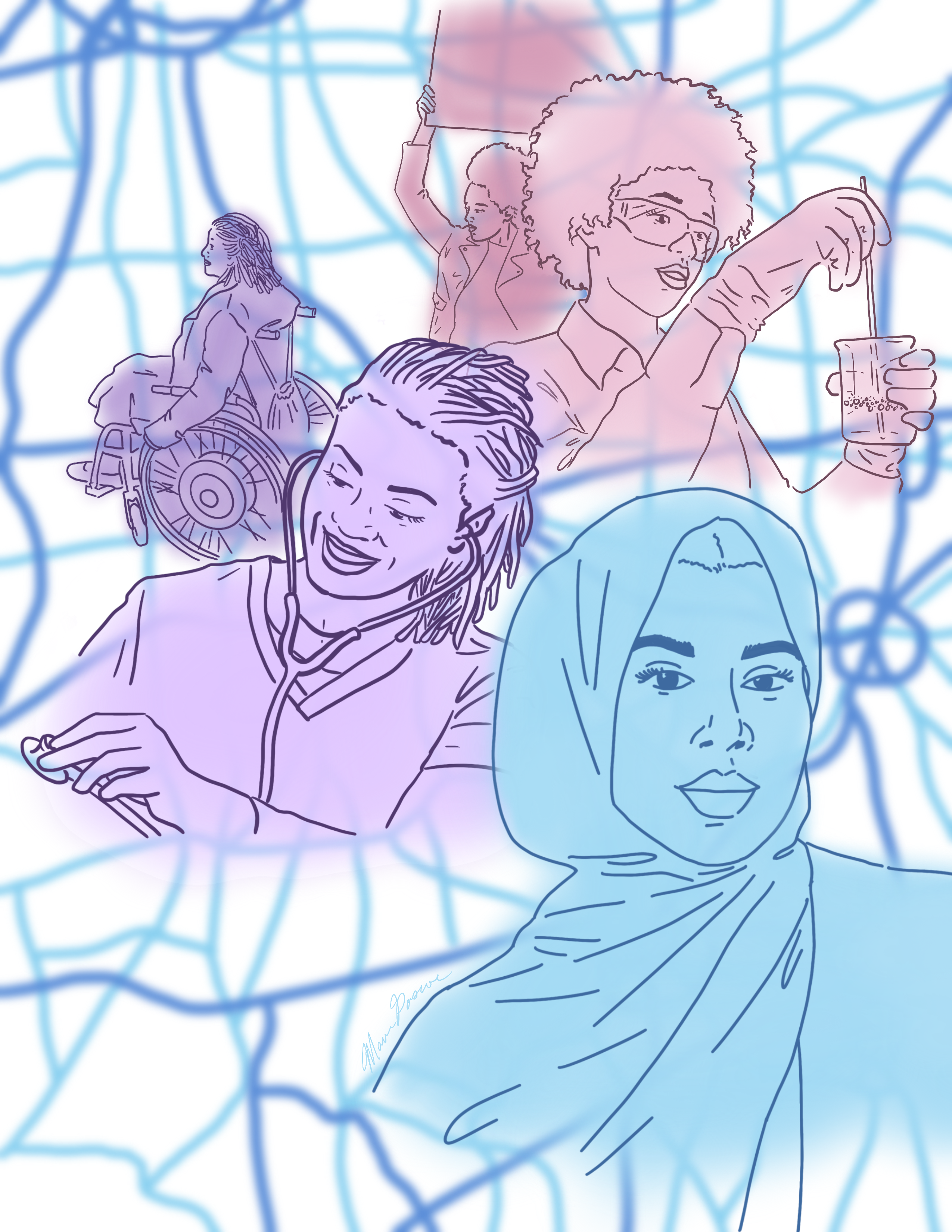 Maeve Pascoe is a current medical student at the Cleveland Clinic Lerner College of Medicine of Case Western Reserve University pursuing a Doctorate of Medicine (MD) and a Master of Science in Clinical Research (MSc). She is a graduate of the University of Michigan and is involved with research at the Cleveland Clinic. She enjoys expressing herself through art and recently received the Cleveland Clinic Center for Bioethics' first annual Anthony Thomas Jr. "Empathy and Valuing Every Person" Art Award.
About the artwork: Intersectionality is the future of bioethics and health because intersectionality reflects who we are. Our identities affect how we move through and work within the world, and no member of our communities holds only one identity. Our scientists, healthcare workers, and scholars/caregivers in the field of bioethics all hold unique identities that go beyond their professional roles and in turn provide unique perspectives to the fields of bioethics and medical humanities. Our activism activates our compassion. Our own journeys with healthcare show us where we as a system can improve. By honoring each other for all that our experiences bring to our lives and our work and by supporting each other, we can create stronger bonds between us and provide better care for our communities. Against a background of the literal crossroads of our nation, this piece represents a critical time in our history where we must amplify the voices around us. We can reach farther, move with greater intention, and have an impact on more lives than ever if we take the time to incorporate the lived experiences of our colleagues into our approaches for care.
Health Humanities-Related Affinity Groups
ASBH's affinity groups plan presentations and educational programs; develop position papers, guidelines, and practice standards; monitor and recommend responses to regulatory legislation and ethical issues; and review and recommend research priorities. A number of the affinity groups engage with the humanities. These are listed below, along with the names of the current leaders.
Baccalaureate Bioethics and Humanities Educators
Andrea L. Kalfoglou, PhD; Hajung Lee, JD PhD MBE
Bioethics and Christian Theology
Kimbell Kornu, MD PhD HEC-C; Tyler Tate, MD
Ethics and Humanities Educators in the Health Professions and Residency Training
Patrick D. Herron, DBe; Ruchika Mishra, PhD
History of Medical Ethics
Robert Baker, PhD
Holocaust, Genocide, and Contemporary Bioethics
William Silvers, MD
Literature and Medicine
Jamie C. Watson, PhD MA HEC-C; Angela Scott, MD PhD
Military, Humanitarian and Disaster Medicine
James Giordano, PhD
Philosophy
Gerard Vong, PhD
Philosophy of Medicine
Allison M. McCarthy, PhD; Matthew Shea, PhD; Heidi Storl PhD MA HEC-C
Religion, Spirituality and Bioethics
Jeff S. Matsler
Visual Arts and Cultural Representations
Nancy Tilson-Mallett
Annual Conference Proposals and the Health Humanities
Performance and Exhibition Submissions
These sessions feature work created to be performed or exhibited and invite the audience to reflect critically on relevant issues or topics. Possible formats include, but are not limited to, staged dramatic performances, readers' theater, movement-based compositions, exhibitions, two- or three-dimensional works, projection, sound art, and readings of original work. Performances or exhibitions may be proposed by one or more presenters and may include more than one performance or exhibition, in which case identifying a critical theme that connects the pieces is strongly recommended. Past performances and exhibitions are listed below.
2021
"What Knowing Might Mean": Exploring Vaccine Hesitancy Through a Performable Case Study
"What Knowing Might Mean" is a Performable Case Study (PCS). Although bearing formal similarities to readers' theater, the PCS model has unique pedagogical aspects, combining research and creative writing to facilitate examination and discussion of bioethics issues. The model has three goals: (1) to provide students with an engaging way of studying and writing about bioethics controversies from a variety of viewpoints; (2) to present a case in dialogic form in a performance setting designed to provoke reflection, rather than theatrical catharsis; and (3) to enhance public discussion of bioethics issues. "What Knowing Might Mean" was developed in a bioethics graduate course to examine vaccine hesitancy. It provides the opportunity to hear a range of perspectives about the science and ethics of vaccination, whether for childhood illnesses or Covid-19. What can we learn from listening? The first 20 minutes will include a brief introduction to the PCS model and viewing of the captioned, virtually recorded performance. All presenters will then facilitate audience discussion, modeling use of PCS to stimulate critical exploration of a bioethics issue (15 minutes). Next, a medical school professor will describe the development and educational uses of the PCS model (10 minutes). A graduate student involved in developing this PCS will describe the research and writing process (5 minutes). A law professor and undergraduate biology/bioethics professor will each describe using PCS to advance educational goals in the classroom (5 minutes each). The final 15 minutes will be dedicated to audience questions and discussion of the PCS model.
A Poetic Ethics — What Sufism Can Teach American Bioethics
In the dynamic tradition of Sufism and Islamic virtue ethics, poetry has been a form of communicating ethical dilemmas by physicians and philosophers alike— from Avicenna to Rumi. As such, the art form of narrative ethics has existed within these ancient traditions and can be a useful tool to explore areas of moral distress, cultural understanding, and patient stories within an American context of clinical/medical ethics. This session will feature interactive writing prompts, an exploration into how poetry can act as a cathartic and effective communication tool between professions (patient and physician) and culture, and explore how the Islamic tradition has integrated poetry and literature into its understanding of key moral questions (for example, communities of obligation, moral status, vulnerability, and suffering). The goal of this session is to encourage participants to adopt 'poetic thinking' as a tool towards approaching ethical dilemmas and decolonizing an understanding of what the 'bio' in bioethics even looks like. The session will engage participants in writing poetry through two exercises and facilitate case-based discussions on how poetry can be used as a tool to uncover and communicate dilemmas in clinical ethics.
A Radical Redesign to Student Wellness Initiatives: An Exhibition of Medical Ethics, Punk Aesthetics, and Zines
Medical students are exposed to multiple factors during training that contribute to high levels of depression, psychological distress, and burnout. Strategies have been implemented to combat this phenomenon, including a formal well-being curriculum, pass/fail grading in preclinical courses, and increased focus on the health humanities; however, students' distress may be a consequence of the medical school experience itself –both the formal and hidden curriculum. While an institutional focus on wellness is appreciated, studies indicate that leisure activities play a crucial role in wellbeing by providing opportunities to connect one's actions with innate talent, core values, and needs outside the classroom. As a response, medical students pioneered an alternative to wellness curriculum and formalized outlets for self-expression by drawing on the radical methodology of Do-It-Yourself (DIY) punk ethos embodied in zines. GUT FLORA—a purely student-directed and curated exhibition of creative endeavors, leisure activities, and hobbies—helped students flourish despite, or perhaps because of, minimal Faculty oversight. Rather than seeking submissions solely based on the experience of being a medical student, the Zine format insisted students are persons first, exhibiting their robust, diverse talents not constrained nor defined by medical school per se. Both a political and a cultural movement, GUT FLORA's output has been diverse: writing, music, film, activism, photography, and original art. Analysis of feedback from GUT FLORA contributors demonstrate that this medium helped sustain participation in leisure activities, which strengthened social relationships, promoted positive emotions, and built empathy.
Disparity, Diversity, DNA, and Drama: Equity in Ethics and Interprofessional Education
The premiere of a multi-vignette play will provide a dramatic narrative pedagogical approach at the intersection of genomics and ethics to explore deep concerns in interprofessional education and healthcare that are too often experienced as myopic and exclusionary. The two scenarios will each spotlight fictional voices of trainees, senior staff, and patients with disparate perspectives to actively engage the ASBH community in sensitive conversations in the context of ethical aspects across a broad spectrum related to genomics. The characters will bring to life challenging aspects in genetics, such as identity, inheritance, disability, databases, access to diagnosis and treatment, and professional education for diverse interdisciplinary providers. The play's dialogue will illuminate the implications and current tensions arising from an historically narrow landscape paved with disparities to critically examine new paths that welcome and help individuals previously excluded, including due to structural racism and implicit bias in bioethics and genetics education, health services, and research. The twenty-minute drama will set the stage to enhance reflective ethical consideration of these thorny issues and foster lively interprofessional discourse that strives to create solutions for a more just, equitable, and diverse society. The nation-wide troupe of distinguished multidisciplinary bioethicists-educators-actors (to include PhD; MD; JD) will share insights based on their character's role and own experiences. The audience is further engaged as well with active interaction elicited throughout the session on substantive issues raised by the vignettes and then, regarding the use of this narrative genomic pedagogy as methodology for interprofessional ethics education.
Graphic Bioethics for the Pandemic
In times of crises, people often turn to the arts to express the human experience of the disaster and to make sense of the extraordinary situation in which they have found themselves. The Black Plague inspired the genre of Danse Macabre paintings. A Journal of A Plague Year was written by Daniel Defoe based on his uncle's journals from an actual plague outbreak in London. When the pandemic began, we were faced with new terms such as "flatten the curve", "hydroxychloroquine", and "N95" that made their way into everyday conversation. Our friends and neighbors changed their behaviors from working at home to hoarding toilet paper to dealing with mass unemployment. In an attempt to make sense of our new lives under the COVID-19 plague, I began drawing a series of comics in the spirit of Edward Gorey. Known for his dark drawings, Gorey's abecedarian Gashleycrumb Tinies contains 26 panels humorously showed the dangers of the world in how it could kill children. My COVIDcrumb Tinies similarly showed the dark side of our new pandemic reality: 26 single panel, color comics showing the challenges and new dangers we face. Each panel combines artwork with formulaic text. Unlike Gorey, I have also paid attention to diversity and inclusiveness in the figures and names used in this work. This exhibition will provide conference attendees an opportunity to see all 26 pieces in one virtual space, to reflect on our shared pandemic experiences
Making Art at the End of the World: A Prescription for Research-Creation
This exhibition includes four 16" x 20" canvas paintings exploring the crossroads of bioethics and art making as research-creation. Using mixed media and pharmaceutical elements such as capsules, syringes, vials, prescriptions and package inserts, these works interrogate how medicine operates to both heal and harm marginalized patient populations.(Mis)informed Consent explores the troubled history and legacy of medical experimentation on marginalized people and current initiatives to recruit diverse patient populations for clinical trials. Spoonfuls of Sugar explores how the medical plantation and plantation laboratories operated as extensions of sugar plantations. N of 1 explores the fraught use of racist and cissexist algorithms and statistics in clinical practice. And Immeasurable Outcomes explores how metrics, measuring, taxonomy, and classification have been used to subjugate populations and continue to fail to represent the diversity of human populations. These works also explore research-creation as method for bioethics (Loveless 2019). Research-creation explores how creative practices and processes can generate new understandings of complex research questions and extend this inquiry into forms of art praxis. This work explores how research-creation pushes at the limits of typical bioethical outputs and traditional artistic outputs, challenging disciplinary boundaries, and shifting at the crossroads of bioethical research and artistic creation. Research-creation offers a multimodal approach to (re)thinking bioethical issues and offers art making as a method for imagining and building more just worlds. By using examples of my own art making practices, I invite others to join me in using art to imagine otherwise and to design different futures.
Moving Images: Authorship and Ethics in Documentary Filmmaking at the End of Life—A Screening and Discussion of an Original Documentary
What is it like to face end-of-life health care issues? How do we strive to find narrative coherence and emotional solace in such moments? In what ways can film be a resource? This ASBH session provides the screening and discussion of an original short documentary on such questions. It will feature (1) a brief introductory talk on the legacy of documentary filmmaking in bioethics discourse; (2) the screening of an original documentary on end-of-life-care; (3) a discussion between the filmmaker and a professor bioethics, when they will reflect on ethical questions of representation and authorship; and, lastly, (4) a period for Q&A with the audience. Participants include a documentary filmmaker trained in bioethics and a senior professor in bioethics who is also standing faculty in Cinema & Media Studies. A description of the documentary: Old Futures is a short documentary that uses found footage, photographs, narrative voiceover, and recorded interviews to consider how we might jumpstart conversations about how we want to live as we age and are no longer able to take care of ourselves independently. With a focus on maintaining autonomy as a cornerstone of aging, the documentary explores a variety of innovative examples for living into old age that replace our current institutionalized, medical-based and ultimately, dehumanizing models. It also asks: In a society where we don't want to think or talk about the inevitabilities of aging, is there utility in engaging in a process to prospectively reflect on these future selves now?
Professional Identity Formation Through the Lens of Mask Creation and Dialogue
Mask-making embraces the crossroads of self, tradition, ethics, and humanities to understand the developmental aspects of professional identity formation (PIF). Masks have a strong tradition in many cultures allowing specific traits or powers to be evoked. We created a learning session based on the article Organizing Chaos: Iterative Professional Identity Formation Through the Lens of Mask Making (Stephens, Bowen, McGinley, Rainey). The session allowed for explorations and discussion of various aspects of PIF. How do we help our future physicians learn to become professionals? What are the developmental steps required? How are these discussions relevant to patient care? Come explore how, through the art of introspection, we begin to demonstrate our understanding of identity and reveal how we build upon various experiences to develop a professional identity. Through the creation of a mask, participants will explore the various aspects of humility, vulnerability, and storytelling allowing for navigation toward the questions of social justice and one's true north. Our Bioethics and Medical Humanities program has created a longitudinal curricular activity for medical students to create masks in years 2 and 4 and reflect on how their experiences. perceptions, and growth are reflected in the two masks. Additionally, we used the exercise as a professional development opportunity within our department to build a sense of community while we work in a virtual space. To participate virtually please have paper and choice of pens, pencils, markers, paint, catalogs/magazines, scissors, and glue-stick. Or use computer illustration or paints app. Supplies provided for in-person session.
Talk Rx: Live Storytelling in Medicine
This performance presents four stories from TalkRx, a quarterly community storytelling event for students in medical school. Narrative medicine is well established as a powerful tool in developing resilience amongst physicians and medical students as well as an effective therapeutic tool for healing amongst patient communities. TalkRx is a live storytelling event that showcases diverse experiences of medical students and provides space for reflection, creativity, and catharsis. Producing this live show involves thoughtfully curating stories, and coaching students in the writing and delivery of a story. Aside from creating community, TalkRx strengthens students' presentation abilities and narrative competence, skills relevant to clinical training and practice. TalkRx harnesses the therapeutic potential of narrative frameworks within the space of medical education to encourage medical students to celebrate the individual experience within a pluralistic world and to recognize the power of storytelling in their own individual journeys and as a medium for forging connections with others. This session brings TalkRx to life with four speakers sharing their stories for the audience. The four presenters include medical students from different stages of medical school and their reflections on the experience of preparing for and performing in TalkRx highlight the importance of not just a space for storytelling itself (e.g. open mics, talent shows, etc), but the importance of storytelling mentors (e.g. Writers-in-Residence). We hope our sample performance and Q&A session will provide an opportunity for creators of TalkRx to share their experiences and lessons after two years of producing live storytelling shows.
2020
Antigone in Ferguson
Antigone in Ferguson is a groundbreaking project that fuses dramatic readings by acclaimed actors of Sophocles' Antigone with live choral music performed by a diverse choir, from St. Louis, Missouri and New York City culminating in powerful, healing discussions about racialized violence, police brutality, systemic oppression, gender-based violence, health inequality, and social justice. The project was conceived in the wake of Michael Brown's death in 2014, through a collaboration between Theater of War Productions and community members from Ferguson, MO, and premiered at Normandy High School, Michael Brown's alma mater, in September of 2016, and has since toured the country and the world. In light of the uprising and protests catalyzed by the killings of Ahmaud Arbery, Breonna Taylor, George Floyd, Tony McDade, Dion Johnson, and many others; and the disproportionate impact of the COVID-19 pandemic on black and brown communities, Antigone in Ferguson aims to generate dialogue, consciousness, compassion, outrage, understanding, and positive action at this critical moment.
DNA, Biometrics, and Immigration Policy in the United States
For over a decade, U.S. immigration agencies have increasingly used DNA and other biometrics in immigration processing and missing migrant cases. Despite growing news coverage of this trend, the ways in which these agencies collect, store, use, and share migrant biometric data remain unclear. This lack of transparency raises concerns over migrants' ability to consent to DNA and biometric data collection. We conducted secondary research on DNA collection policies and practices to clarify the circumstances in which genetic information is collected throughout immigration procedures. We compiled and synthesized information from federal and state legislation, case law, and common practices by various federal agencies. With this research, we developed an interactive, informational tool to educate the public about DNA collection policy and procedures. During our performative presentation, audience members will have the chance to use the tool to navigate distinct pathways through multiple entry points: when applying for derivative citizenship or family-based immigration benefits, when apprehended by immigration enforcement agents, and when identifying missing migrants. This responsive flow chart allows users to learn how genetic information may be collected and used under these simulated, variable conditions. Since DNA testing in the immigration context varies with changing policies, the tool is continuously updated to reflect only the most recent information. Public participation will aid this tool's critical function to distill the tumultuous intersection of immigration politics and biometrics into a dynamic, accessible pathway, tailored to the concerns and curiosities of the user.
Embodying Disclosure: Race, Family, and Parkinson's Disease
The relationship between race and Parkinson's Disease is controversial. The available research on the incidence of Parkinson's Disease among Blacks in the United States, as well as the subsequent experiences of those living with the illness, are conflicting and underdeveloped. They do suggest that the persistent racism in our country and healthcare system contribute to disparities in diagnosis, access to care, and outcomes. This presentation proposes dance as something other than a form of physical therapy or community building for those living with Parkinson's Disease: it can be a methodological tool for kinesthetic analysis that promotes human flourishing by attending to the lived, bodily experiences of those living with Parkinson's Disease inside and outside of healthcare spaces. By infusing the choreographic process with autoethnography and structured improvisation, the process of making and performing a dance becomes an embodied form of disclosure. The additional element of audience direction invites audience members in on what is otherwise a private, family conversation between a Black father and daughter. This provides an intimate perspective on the family unit, an element often missing from most Parkinson's Disease research as the focus tends to be on patients and caregivers. The resulting work challenges expectations around what is possible for someone living with Parkinson's Disease, what Black fatherhood looks like in contemporary society, and promotes human flourishing by celebrating the unknown.
Is Rarer Fairer? An Interactive Drama Explores Justice and Resource-Intensive Innovative Therapies for Rare Diseases
This performance session premieres a multi-case drama, mock attendee advisory committee, and family video to actively engage the diverse ASBH community in conversations exploring notions of Justice and Fairness in the context of resource-intensive new interventions for rare genetic diseases. Both the play's dialogue and two video excerpts illuminate the complex ethical landscape of translational medicine to critically examine implications, interests, perspectives, and tensions between individuals, families, communities, and our pluralistic society-at-large. Questions abound, such as who should pay the exorbitant costs for the development and administration of innovative therapies, how does an institution decide the inclusion criteria for access to the therapy, and should it make a difference whether the resource allocation may only benefit a small number even within the rare disease community? The twenty-minute play sets the stage to enhance reflective ethical consideration of justice issues and foster lively inter-professional discourse. After the performance, the multidisciplinary bioethicist-presenters (PhD; RN; JD; MD) and nation-wide troupe of distinguished bioethicist-actors, share insights based on their character's role and own experiences. Broad audience discussion is elicited; participants are also encouraged to provide feedback regarding this narrative-genomic pedagogy as an approach for ethics education as well as interprofessional and community engagement. Attendees are then engaged in a mock Ethics Advisory Committee tasked with voting on select decision-making processes to guide policy for this fictional institution. Lastly, we present and discuss two powerful excerpts from a video shared by a family who has a child with a rare genetic condition.
Pharmako-Logics of Injustice
This series includes four 16" x 20" canvas paintings organized around the theme of the pharmakon and justice. Using mixed media and pharmaceutical elements such as capsules, syringes, vials, prescriptions and package inserts, these works interrogate how pharmaceuticals contribute to social and environmental injustices. 'Ill/licit' questions the logics of drug use and incarceration. Using syringes and package inserts from antipsychotics and opioid medications, among other materials, this piece attempts to blur the boundaries between illicit/licit drug use/abuse, addiction as illness/immoral, and drug effects as therapeutic/toxic. 'Compliant' uses birth control inserts and packaging to question how hormonal therapies construct idealized, gender-normative reproductive subjects. The history of gynecology and forced sterilizations compel us to recognize that technologies of reproduction are produced by the legacies of slavery, colonialism, and eugenics. 'Refill' uses prescription vials and capsules to question the environmental impact of pharmaceuticals. It questions not only the origins and impact of pharmaceutical development, such as biopiracy, but also what happens to medications when they leave our bodies, enter the environment, and affect local ecosystems. 'Expired' uses expired medication bottles and mixed media to question how pharmaceuticals forward capitalist logics of production in contributing simultaneously to the prolongation of life and to the stigmatization of aging and disability. This piece questions how we decide which bodies and objects are deemed usable by the state and which are deemed disposable.
Rearranging the Furniture
"Rearranging the Furniture" is a solo performance piece that threads the story of Oedipus and Tiresias - two men within the theatre canon afflicted with blindness - with my story of coming to terms with a diagnosis of vision impairment as a theatre director and professor. In a field where directors are praised with terms like "visionary" and textbooks teach "stage pictures," it is difficult to imagine approaches that do not privilege sight. This piece examines questions of liminality and diagnosis, in/interdependence, identity as it explores the challenges of creating space for diff/disability in rigid structures. An interactive exploration of how we can collaboratively create new approaches to our work together, "Rearranging the Furniture" is an exploration of what it means to create theatre that doesn't privilege sight, and by extension how to build new institutions and structures that offer justice and possibility for all.
Sign Language Instruction as Cure: A Modest Proposal
Division persists between Deaf culture's choice of signed language communication and the preference by many healthcare professionals for cochlear implants and spoken language. Hearing parents of deaf children often choose cochlear implants and oralist education due to fear of failure for their child to assimilate into the hearing world. Deaf children who do not speak may have difficulty mixing with hearing culture, but have the opportunity to integrate with the pluralist world of the Deaf community. Recently, Bowman-Smart and colleagues published an article describing moral arguments for mandatory sign language in childhood education. Their reasons include inherent advantages of learning sign language, improved inclusion for people with non-communicating disabilities, and the prospering of Deaf culture. They claim that broad use of sign language would help to resolve the standoff between those who promote cochlear implants and those who prefer Deaf culture. Generalized knowledge of American Sign Language (ASL) would aid deaf and non-speaking children as well as older people who become deaf or hard of hearing, often marginalized. Yet widespread familiarity with ASL would not create a robust Deaf culture. Deaf culture presupposes a Deaf identity. Though signing represents a part of Deaf culture, it is not sufficient for inclusion into the culture. Deaf culture encompasses a rich, flourishing society that needs no help from outsiders. We will perform readers' theater to expand upon the above ideas addressing generalized ASL education, its advantage of justice for many deaf people, and the tensions this concept creates for the Deaf community.
Story Rx: Prescription for Storytelling in Medicine
This panel is designed to explore the craft of storytelling in medical education, clinical practice, and individually-mentored creative projects. Initial studies have pointed to the wellness effects of creative and reflective writing interventions in the lives of clinicians. These markers, while important, fall short of documenting the rich and varied effects of true integration of creative writing, speaking, and other storytelling opportunities in the daily lives of medical students and other healthcare providers. In this panel we discuss five different forms of storytelling instruction and practice, and measures of their impact: 1) multi-day overnight storytelling retreats for medical students, 2) drop-in creative writing workshops for the entire medical community, 3) individual (mentored) year-long creative nonfiction and narrative medicine projects, 4) student-led creative writing workshops, and 5) a live, onstage storytelling series for medical students by medical students who receive individualized speaker coaching and story/presentation skills-development. In this panel a professional writer, two medical students/community organizers, and a physician storytelling-coach will each speak to the development, leadership of, and participation in these programs and their often-surprising effects on clinical education, personal development, wellness, and speaking and/or publishing opportunities. We will share best practices and common pitfalls, ethical considerations, as well as the ways other institutions might establish similar programs dedicated to creative nonfiction, journalism in the context of medical humanities, live storytelling, and more.
Trans Youth in Translation: An Exhibition of Creative Works Reflecting Transgender Youth Healthcare Experiences
Many transgender (trans) require access to gender-affirming medical interventions. Family support, access to information, and access to trans-culturally competent clinicians all impact the health care experiences and overall wellbeing of trans youth. Efforts to improve access to care for this population largely focus on clinician education and reducing clinician bias related to transgender populations. Trans Youth in Translation was a youth-driven, arts-based knowledge translation project, the purpose of which was to translate research findings from a study on trans youth health care decision-making experiences into creative works. Researchers and trans adult artist mentors supported 30 trans youth artists in producing paintings, poems, creative writing and songs. All works were developed based on quotes from research interviews with trans youth about their health care experiences. Youth artists drew on their own lived experiences in creating art reflective of the research participant data. These works were premiered in showcases during which the youth artists interacted with health care providers, policy makers, researchers and health professions students who were interested in youth gender-affirming health care. The works are being integrated into online and in-person trainings for health care professionals, alongside empirical research findings and clinical practice recommendations. This exhibition will afford participants opportunities to engage with these creative works, to develop greater understanding of the health care experiences of trans youth, and to learn about this youth-driven, arts-based approach to knowledge translation in health care provider training programs aimed at promoting trans-cultural competence, reducing bias, and increasing access to youth gender-affirming care.
When Diversity Lacks, Patients Suffer: Theater as a Positive Deviance
Lack of diversity continues to be a problem in medicine. The harm this injustice causes is not only felt by the non-white and female physicians, who feel discriminated and unheard, but is also felt by patients. Studies have shown that perceived discrimination from the part of physicians affects patients' health, for they grow to distrust their doctors. Said distrust leads patients to 1) stop visiting their physicians and hospitals in times of need, 2) develop anxiety, depression and other diseases, and 3) distrust the medical advice given by the doctor. Thus, medical students need to be more informed about the social determinants of health, for they are our future clinicians, and theater has been shown to increase the retention of information as well as being an effective way of teaching and starting a discourse on difficult topics. Through my play, "When Diversity Lacks, Patients Suffer", I plan to start a conversation on the testimonial injustice suffered by patients at the hand of physicians, driven by different stigmas and racist/sexist stereotypes. The play is comprised of three different stories happening under one same hospital, each dealing with a different issue: 1) female patients being less believed about their pain, 2) black men/women being treated as drug-seeking patients, and 3) non-white physicians being treated as "second-tier" physicians. In my session, I'll read and act some of the scenes from the play and will later engage in conversation with the public, where we will dissect the scenes presented.