Past Graphic Design Contest Winners
To learn more about the 2023 contest, click here!
2022 Graphic Design Contest Winner
In January 2022, the Program Committee was pleased to announce ASBH's third-annual Graphic Design contest. Members and nonmembers alike were invited to submit original art providing creative interpretations of the conference theme: Reimagining and Claiming the Role of Public Bioethics and Health Humanities. We asked artists to explore critically the many intersections of bioethics, health humanities, and the worlds with which we engage.
The committee received five submissions. The winner design and the creator's bio and artist statement appears below. This design was used as the graphic theme of the 2022 Annual Conference.
Winning Design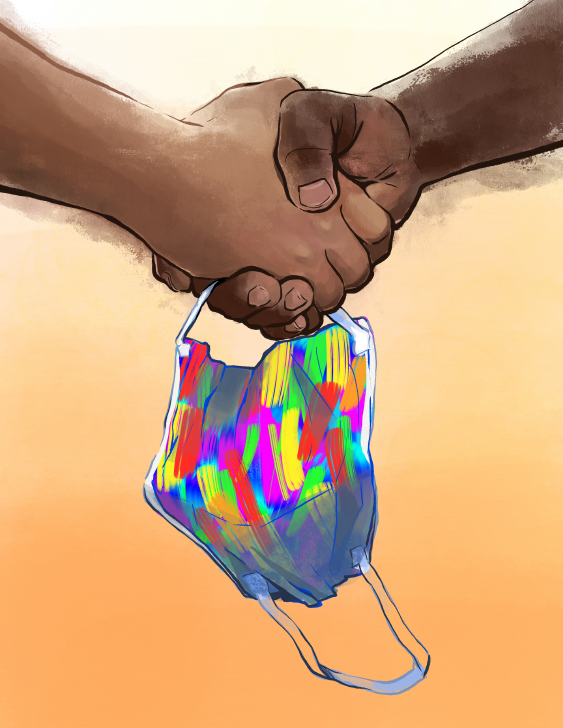 Artist: Laura Hansman
I am a third year medical student at Albany Medical College pursuing an MD. My research interests include bioethical issues surrounding those who experience incarceration.
Although we now rejoin one another in person after our isolation,Although we now rejoin one another in person after our isolation,we bring with us the grief, failings, and lessons of the COVID-19pandemic. This piece shows a handshake, representing reunion,while carrying the infamous mask, representing the pandemic.The bright colors of the mask symbolize the novel experiences andknowledge gained during this time and how we can use them topush the field of bioethics forward.
2021 Graphic Design Contest Winners
In our second-annual Graphic Design Contest, we received sixteen submissions from ASBH members and nonmembers, all engaging with the conference theme: Bioethics and Humanities at the Crossroads.
Sixteen submissions were received from in total. The winning design, the two designs receiving honorable mentions, and the creators' bios and artist statements appear below.
First-Place Design
The winner submission, featured below, was used as the graphic theme of the 2021 Annual Conference. An adaptation of the original piece appears on the cover of the conference brochure and the web page.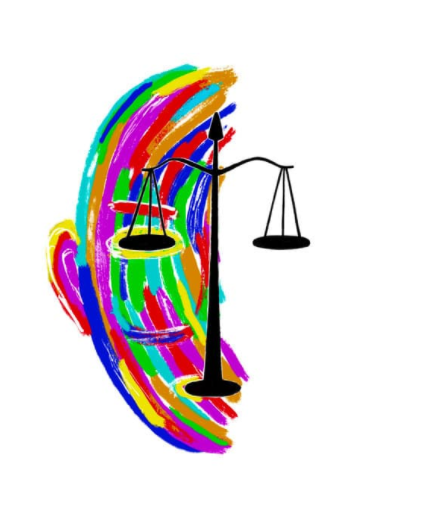 Artist: Jason Chen
I am the clinical ethics fellow at Ohio State University Wexner Medical Center. I have a PhD in philosophy with a specialization in the philosophy of well-being. I paint in my spare time.
This piece of art is composed of two objects: a human face and a scale. The former represents human culture and society, which is the object of study in the humanities. The latter represents the different values that need to be weighed against each other in the field of bioethics. Notice that the face is abstract and multicolored, symbolizing the interconnectedness of the issues we face as an international family. And notice the placement of the scale. It is not only an artistic expression of the theme of the conference but also of the weighing of values that takes place in our minds.
Honorable Mentions
Two designs were awarded honorable mention this year.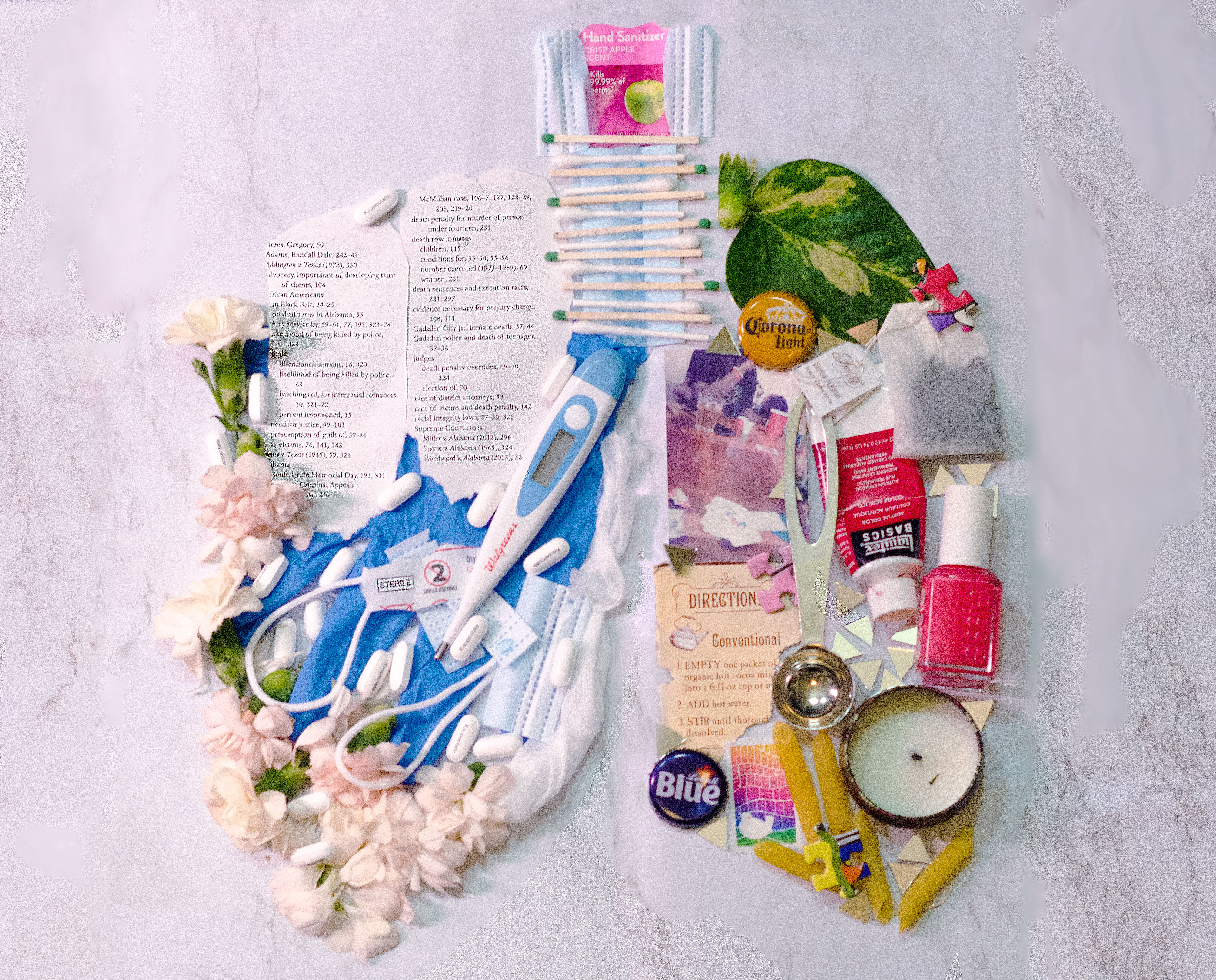 Artist: Maddie Berkvam
Maddie Berkvam is a first-year graduate student at Northwestern University, where she is pursuing a dual degree in Genetic Counseling and Medical Humanities + Bioethics. She received her BA from University of Wisconsin-Madison, where she studied Zoology and minored in Environmental Studies and Global Cultures. After graduating from UW-Madison in 2015, she spent 5 years in Chicago working as a medical copywriter before realizing her aspiration of becoming a genetic counselor. Upon completing her graduate education, she hopes to work as a pediatric oncology genetic counselor in an underserved area of Chicago, where she can help to improve access to testing services. Additionally, she would like to utilize her MHB degree to serve on a hospital ethics committee and continue to cultivate her love of writing. In her free time, she enjoys outdoor adventures with her dog Nile, pursuing new art projects, and binge-watching action movies.
The title of my piece is "Pandemic Privilege." Specifically, I aimed to visually portray the following: "The responses to COVID-19…have awakened deep concerns about our healthcare systems, systemic inequity, and divergent worldviews, as well as awareness of the potential for new alliances and creative solutions." Pandemic Privilege represents starkly contrasting experiences of privilege and power in the wake of COVID-19, illustrated by the juxtaposing composition of the two lungs. The left lung is comprised of rubber gloves, pills, dilapidated peach carnations (symbolic of celebrations and milestones lost), a thermometer, disposable face masks, and a torn index page from the novel Just Mercy, which lists a number of pertinent terms, court cases, and historical references that underscore a disparagingly timeless theme of racial injustice and inequality. The right lung tells an entirely different story—one of privilege, hunkering down in comfort, guiltless indulgences, new hobbies, new memories, and new life.


Artist: Maeve Pascoe
Maeve Pascoe is a current medical student at the Cleveland Clinic Lerner College of Medicine of Case Western Reserve University pursuing a Doctorate of Medicine (MD) and a Master of Science in Clinical Research (MSc). She is a graduate of the University of Michigan and is involved with research at the Cleveland Clinic. Additionally, she enjoys expressing herself through art and recently received the Cleveland Clinic Center for Bioethics' first annual Anthony Thomas Jr. "Empathy and Valuing Every Person" Art Award.
Intersectionality is the future of bioethics and health because intersectionality reflects who we are. Our identities affect how we move through and work within the world, and no member of our communities holds only one identity. Our scientists, healthcare workers, and scholars/caregivers in the field of bioethics all hold unique identities that go beyond their professional roles that in turn provide unique perspectives to the field of bioethics and medical humanities. Our activism activates our compassion. Our own journeys with healthcare show us where we as a system can improve. By honoring and supporting each other for all that our experiences bring to our lives and our work, we can create stronger bonds with each other and come together to provide better care for our communities. Against a background of the literal crossroads of our nation, this piece represents a critical time in our history where we must amplify the voices around us. We can reach farther, move with greater intention, and impact more lives than ever if we take the time to incorporate the lived experiences of our colleagues into our approaches for care.