In Memoriam Archive
Dan Callahan, PhD
1930-2019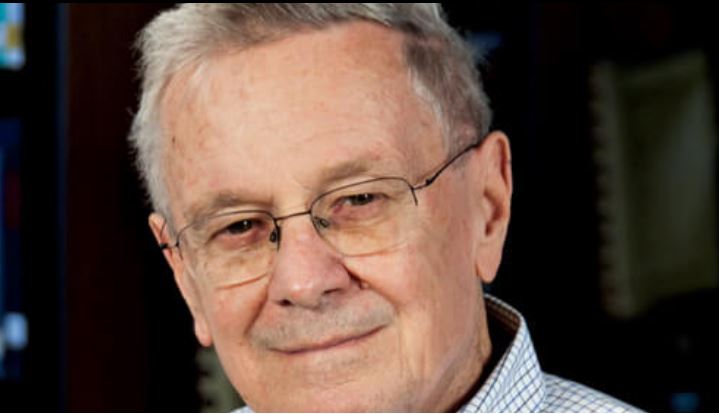 Daniel Callahan, a national voice for responsible health and science, who pioneered the field of bioethics, died Tuesday, July 16, two days before his 89th birthday. In 1969, Callahan cofounded The Hastings Center with Willard Gaylin. Callahan served as the Center's director from 1969 to 1983, president from 1984 to 1996, and president emeritus, actively publishing numerous essays, until his death. Over nearly five decades, Callahan advanced new foundational ideas, offered practical wisdom, influenced international health and science policy, stimulated the creation of the interdisciplinary field of bioethics, and supported its growth across the United States and the world. Perhaps most importantly in this era of polarization and hyper-individualism, he called on us to work together to discuss vying notions of the good and build solutions to promote human flourishing. Callahan was motivated by a fundamental wariness of human power. He was deeply struck by the human proclivity for self-deception, especially concerning the potential for irresponsible use of such power in the life sciences and in the realm of biomedical technology. His work demonstrates a deep sense of how fundamental moral sensibility is to our humanness and how vulnerable and naked we would be—and are—in a society of merely self-interested stakeholders engaged in merely instrumental cooperation. As we grieve the loss of Daniel Callahan, may we be uplifted by the inspiration of this great man. How lucky are we who have worked with and learned from the life Dan so well lived.
View the In Memoriam Article.
Anita Silvers, PhD
1940-2019
Professor Anita Silvers was an institution in professional philosophy. She was Professor and former Chair of the Philosophy Department at San Francisco State University and a nationally recognized advocate for disability rights. Disabled by polio as a child, Silvers was a leading advocate for equality for persons with disabilities. On the faculty at SF State since 1967, Silvers worked to make access and disability services available on California college campuses. In 1980, she was appointed by President Jimmy Carter to serve on the National Council for the Humanities, the governing board of the National Endowment for the Humanities. She served for 26 years as Secretary-Treasurer of the American Philosophical Association (Pacific Division). Silvers received the inaugural California Faculty Association Human Rights Award in 1989 and served as a Senior Fulbright Scholar in New Zealand in 2005. In 2009 she was awarded the Quinn Prize for service to the profession by the APA, in 2013 the Lebowitz Prize for Philosophical Achievement and Contribution by Phi Beta Kappa and the APA, and in 2017 she received the Wang Family Excellence Award for extraordinary achievements in the California State University system. Silvers's groundbreaking scholarship helped to establish disability rights as an important subfield of philosophy; she is regarded as an authority on medical ethics, bioethics, disability theory, social philosophy, aesthetics, and feminism. As a teacher and mentor she changed the lives of countless students, scholars, and activists. She will be deeply missed by her students, colleagues, and the many people she inspired.
Lawrence J. Schneiderman, MD
Lawrence J. Schneiderman, MD, professor emeritus in the departments of Family Medicine and Public Health and Medicine and among the founding faculty at UC San Diego School of Medicine, passed away August 8 at his Del Mar home. He was 86.

"Dr. Schneiderman was a member of this department for more than 40 years and remained dedicated to scholarly activity in medical ethics over his entire career," said Cheryl Anderson, professor and interim chair of the Department of Family Medicine and Public Health. "He was beloved by colleagues, admired for his productivity as an academician and his commitment to nurturing his interests in the arts."

After studying at Yale University and receiving his medical degree from Harvard Medical School in 1957, Dr. Schneiderman interned and pursued residencies and fellowships in Boston; Rochester, NY; Bethesda, MD; London, England; and Palo Alto, CA. From 1964 to 1970, he was an instructor and assistant professor at Stanford University School of Medicine. He joined the faculty of UC San Diego School of Medicine in 1970 as an assistant professor in the departments, just two years after the school accepted its first class of students.

Dr. Schneiderman was founding co-chair of the UC San Diego Medical Center Ethics Committee and a widely recognized authority on medical ethics, with more than 170 medical and scientific publications.

For more than four decades, Dr. Schneiderman alternated teaching in what are now the departments of Family and Preventive Medicine and Medicine at UC San Diego School of Medicine with visiting scholarships to, among other places: the Hastings Institute of Society, Ethics and the Life Sciences at Albert Einstein College of Medicine in New York City, the University of Washington School of Medicine, the Center for Biomedical Ethics at the University of Minnesota and the Center for Values, Ethics and the Law in Medicine at the University of Sydney in Australia. For a decade, he served as an ethics consultant to Rady Children's Hospital-San Diego.

Dr. Schneiderman was also an accomplished, published novelist (Sea Nymphs by the Hour, 1972), playwright and author of numerous anthologized short stories.

His awards and recognitions spanned his diverse interests, from the 2007 Pellegrino Medal in Medical Ethics to the 1981 Drama-Logue Award for Distinguished Playwriting. His name appeared in both American Men and Women of Science and American Poets and Writers.

Dr. Schneiderman is survived by four children: Rob, Claudia, Heidi and Tanya, and one brother, Arthur.
Tristram Engelhardt, Jr. PhD, MD
H. Tristram Engelhardt, Jr., PhD, MD, one of the intellectual founders of the fields of bioethics and the philosophy of medicine, whose seminal work continues to frame debates about healthcare policy and medical practice, fell asleep in the Lord on June 21, 2018 in Houston, Texas. He died of complications due to cancer. He was 77 years old.

Professor Engelhardt was a Lifetime Member of the American Society for Bioethics and Humanities, and in 2013, he was awarded the ASBH Lifetime Achievement Award. Many will remember him as an active, boot-wearing, vocal participant at the ASBH Annual Meeting.
It was at these meetings that many colleagues became friends, often after Professor Engelhardt challenged their arguments.
Professor Engelhardt traveled the world, relying on both his United States and Republic of Texas passports, lecturing on the history of philosophy, history and philosophy of medicine, and bioethics.
In 1975, he co-founded the Philosophy and Medicine (1975) book series with Stuart Spicker (with some 129 published volumes currently in print); in 1976, The Journal of Medicine and Philosophy with Edmund Pellegrino (now in its 43rd year of continuous publication); and in 1995, Christian Bioethics: Non-Ecumenical Studies in Medical Morality (now in its 24th year of continuous publication).
Together these projects created an international scholarly focus to frame the intellectual fields of the philosophy of medicine and bioethics.
Many scholars know Engelhardt for his libertarianism. In his book Bioethics and Secular Humanism (1991) together with the first and second editions of The Foundations of Bioethics (1986; 1996) examined why sound rational argument is unable to provide the foundations necessary to justify a content-full secular morality or bioethics, much less to secure a canonical political theory to guide healthcare policy. The foundations of secular bioethics and health care policy, he argued, are starkly libertarian.
Yet his unflinching libertarianism was only part of the story. Engelhardt had long acknowledged that secular morality permits many activities that he knew to be deeply sinful (e.g., abortion on demand, human embryonic stem cell research, euthanasia, and so forth) as well as imprudent (e.g., turning to a doctor of naturopathy for treatment of heart disease). It is in The Foundations of Christian Bioethics (2000) that Engelhardt presented a deeply serious account of Orthodox Christian bioethics. It is a bioethics set within a spiritual framework at one with the commitments, beliefs, and practices of the ancient, traditional Christian Church and framed in terms of our struggle to know God and to find salvation through Him.
Engelhardt wrote what would be his final book, After God: Morality & Bioethics in a Secular Age (2017), while undergoing cancer treatment. There, Engelhardt articulated the moral and epistemic implications of living in a culture that had come to reject God. It is an insightful and brilliant work, written in the knowledge that time was limited.
He published more than 300 articles and book chapters, more than 110 book reviews and other publications, together with more than twenty-five edited or co-edited books. His work has been translated into numerous languages, including Chinese, German, Portuguese, Italian, Spanish, and Japanese. The impressive range and depth of his work in philosophy, medicine, bioethics, and theology illustrate his profound appreciation that careful and critical analytical work is central to reigning in the untutored desire to claim the current canons of political correctness as truth.
Beyond his serious scholarly engagements, Engelhardt always worked tirelessly for his students and his friends. His intellect, energy, generosity, and wit will be sorely missed.
James E. Rush, PhD
James E. Rush, PhD, passed away May 22, 2018. Rush was an expert in global philosophies, religions, formative spirituality, critical thinking, moral reasoning and biomedical ethics.
He began his carer as chairman of the Department of Philosophy and Religion at Philander Smith College in 1976 and taught every summer at Arkansas Governor's School. Rush was an adjunt faculty member in the Medical Humanities Department at the University of Arkansas for Medical Sciences for over 25 years. He was also a member of the Arkansas Children's Hospital bioethics committee for 20 years.
In February, Rush received the Living Legend Award at Philander Smith College. He was recognized multipled times by Who's Who Among American Teachers and Who's Who in Religion. Rush was also the recipient of The Mary and Ira A. Brumley Award for Religious Education, the Outstanding Achievement by an Individual in Higher Education Award, the Lacerine Walsh Faculty of the Year Award and twice recieved the Exemplary Teachers Award from The General Board of Higher Education and Ministry of the United Methodist Church.
Rush was a Methodist Minister for 50 years and a founding member of the Ecumenical Buddhist Society of Little Rock. He was beloved by family, friends, faculty, students and staff. His dedication to his students and compassionate nature were demonstrated in his teaching, service and spiritual practice.
Read more about Dr. James E. Rush here.
Aviva Katz, MD, MA, FACS, FAAP
Aviva L. Katz, MD, MA, FACS, FAAP passed away January, 17, 2018. She was a pediatric surgeon and clinical ethicist at the Children's Hospital of Pittsburgh, where she also served as the Director of the Consortium Ethics Program (UPitt) and the Ethics Consultation Service (Children's Hospital).
Katz was a leader in the pediatric surgery and pediatric bioethics communities as well as an active member of ASBH.
She served as a Chair of the Committee on Bioethics of the American Academy of Pediatricians and Chair of the Ethics and Advocacy Committee for the American Pediatric Surgical Association. Within ASBH, she was a member of the Healthcare Ethics Consultation (HCEC) Certification Commission and past member of the Clinical Ethics Consultation Affairs (CECA) Committee.
Katz was also heavily involved in her local community, mentoring women interested in medicine, and presenting programs related to medicine and ethics to the local school board. She was also a talented figure skater. Survivors include her husband, Daniel Weiner and four children, Gabe, Sam, Channah and Shoshana.
Her contributions and accomplishments in ethical care, pediatric surgery, bioethics and within ASBH made her a valued leader, teacher, colleague and friend.
Read more about Aviva L. Katz: American Pediatric Surgical Association, University of Pittsburgh
Richard Selzer, MD
1929-2016
Allen Richard Selzer was born June 24, 1928, in Troy, N.Y. Young "Dickie," as he was known, often accompanied his father on house calls, but he was also drawn to the arts through the influence of his mother, a singer.
When his father died of a heart attack, "it was then and there that I gave myself to medicine the way a monk gives himself to God," Dr. Selzer wrote in his 1992 memoir, "Down From Troy." "Not to have done so would have seemed an act of filial impiety. Since I could not find him in the flesh, I would find him in the work he did."
He received a bachelor's degree in 1948 from Union College in Schenectady, N.Y., then graduated from New York's Albany Medical College in 1953. After an internship at Yale, he served in the Army Medical Corps in Korea, where he became seriously ill with malaria. He later returned to Connecticut to teach and to open a surgical practice. (His partner was Bernie S. Siegel, author of the 1986 bestseller "Love, Medicine & Miracles.")
In his youth, Dr. Selzer was a voracious reader and fascinated by language. After turning 40, he began to write short stories, publishing his first in Ellery Queen's Mystery Magazine in 1971. Several stories were collected in his first book, "Rituals of Surgery," in 1973.
He also published essays on medicine in Esquire magazine and received a National Magazine Award in 1975. He gave up his medical practice in 1984 to write full time.
Survivors include his wife of 61 years, Janet White Selzer of North Branford; three children, Jonathan Selzer of Cheshire, Conn., Lawrence Selzer of Winchester, Va., and Gretchen Lehman of Fort Myers, Fla.; and seven grandchildren.
"It is trust, not gratitude or worship, that animates the physician," Dr. Selzer wrote in "Down From Troy." "To palm a fevered brow, to feel a thin wavering pulse at the wrist, to draw down a pale lower lid — these simple acts cause a doctor's heart to expand. . . . Add to this the possibility of the grace of healing, and there is no human contact more beautiful."


Ronald Baker Miller, MD
1933-2016
Ronald B. Miller, MD, internist-nephrologist and clinical medical ethicist, died peacefully at his home in Irvine, CA, on March 9, 2016 after a short illness. Dr. Miller graduated from Princeton University, attended medical school at the College of Physicians and Surgeons, Columbia University, and completed his training in Boston, where he was also on faculty. He went to UCI in 1968 as Assistant Professor of Medicine and founding director of the Renal Division, Department of Medicine in the California College of Medicine and was tenured in 1972. Though he then entered private practice, he retained an academic appointment at the University of California Irvine, School of Medicine and remained active until his recent illness. He received numerous awards, authored over 100 publications and presented over 300 invited lectures.
His compassion for his patients led him to take a yearlong sabbatical in the budding field of Clinical Medical Ethics at the University of Chicago, Pritzker School of Medicine Ethics in 1989-90. On returning to USI he founded the Program in Medical Ethics, which he directed until 2001.
Dr. Miller was brilliant, driven by a moral passion for ethical medical practice and patient-shared decision making. He brought fire to the battles he engaged in, and was tireless in the pursuit of a better society. He believed the each individual has a responsibility to others, and so in living his beliefs, treated people with decency, dignity, and respect. He was well known for digging deeply into issues troubling medical practice and patient care. He loved to take an adversarial position just to get discussions going. He will be remembered for being committed to patients, fair but tenacious in argument, generous with his time as a mentor, and dedicated to advancing the field of bioethics. He had great knowledge and wisdom in many areas, built upon a phenomenal memory and love of learning. He was always a presence in the front row, furiously taking notes.
He will be missed.
His family has requested that in lieu of flowers, donations be made to the Jerome Tobis Endowed Lecture in Medical Ethics: UCI Foundation, 555 Aldrich Hall, Irvine, CA 92697-5600. Telephone: 949-824-5618. Checks to UCI Foundation, Attn: Linda Haghi, 19722 MacArthur Blvd, Irvine, CA 92697-3954


John D. Arras, PhD
1945-2015
John D. Arras died on March 9, 2015. He was the Porterfield Professor of Biomedical Ethics and Professor of Philosophy and Public Health Sciences at the University of Virginia, where he directed the undergraduate bioethics program.
Arras was a leader in the field of bioethics. He was a member of the Presidential Commission for the Study of Bioethical Issues and the ethics committee of the March of Dimes. He was a founding member of the ethics committee of the Centers for Disease Control and Prevention. He was also a Fellow of The Hastings Center and a former member of its board of directors.
Arras's research interests were wide-ranging. In numerous articles on bioethics, Arras took on diverse topics, including rationing vaccines during an Avian flu epidemic, ethical and social issues in high-tech home care, fair benefits in international research, ethical principles in the care of imperiled newborns, human assisted reproduction, and prenatal screening for disabilities. On his personal website, he wrote: "My research falls into two broad categories: 1) reflections on method in practical ethics, including varieties of 'principlism,' moral theory, case-based reasoning, narrative, pragmatism, human rights, etc.; and 2) more occasional topics of current ethical controversy, such as physician-assisted suicide, research ethics, and public health."
He is the author or editor of several books, most recently The Routledge Companion to Bioethics, edited with Elizabeth Fenton and Rebecca Kulka (Routledge 2014) and Ethical Issues in Modern Medicine, written with Bonnie Steinbock and Alex John London (McGraw-Hill 2012). In addition, he has two books forthcoming from Oxford University Press: Emergency Ethics: Public Health Preparedness and Response," edited with Bruce Jennings, Drue Barrett, and Barbara Ellis; and a book tentatively titled The Ways We Reason Now: Skeptical Reflections on Method in Bioethics."
In 2005 he was honored with the University of Virginia Alumni Association's Distinguished Professor Award for teaching, research, and contributions to student life and in 2006 he received an Outstanding Faculty Award from the Virginia State Council of Higher Education. His role as a teacher was extremely important to him. As he said in the spring 2014 University of Virginia Magazine:
"I see myself as being in the business of helping students become who they are going to become. I love being around young people, prodding them, arguing with them. There is a Socratic element to it, an intense connection between the teacher and student. It's a kind of secular blessedness, to love what you do over a very long stretch of time. That's as good as it gets."
Sherwin Nuland, MD
1930-2014
We note the passing, this summer, of Dr. Sherwin Nuland, professor of surgery at Yale, medical ethicist, historian and brilliant author.
Shep, as he was known to all his many friends and colleagues, had a narrative gift that probed the deepest recesses of the human body and the human heart. He was the author of How We Die, which could be said to have helped launch the right to die and palliative care movement in the 1990's; a deeply honest autobiography Lost in America, and other works in medical history, notably Doctors, The Biography of Medicine. His pieces in American Scholar on medicine were gems of clarity and insight. The elegance of his prose was only matched by the fierceness of his approach to complexity and the human condition. He brought art and beauty to all facets of medicine, whether he was writing about Ignaz Semmelweis or death and was, perhaps, the greatest physician writer of his generation.
Shep was a long-time board member of the Hastings Center and teacher of surgery and medical ethics at Yale. The Sumer Bioethics Institute at Yale University was named last summer to honor his memory and legacy. Let's take a moment to remember our dear friend and colleague.
Marjorie Jean Spurrier Sirridge, MD
1922-2014
Marjorie Jean Spurrier Sirridge, MD, 92, died July 30, 2014. Sirridge was a cornerstone of the UMKC School of Medicine from its inception, serving as a founding docent and later as the School's dean. Combined with her deep appreciation for medical humanities, Sirridge brought an approach to medicine that emphasized empathy and compassion for the patient, characteristics that are bedrocks of the School's curriculum.
Sirridge and her husband, William, were two of the three founding docents for the new School of Medicine when it opened in 1971. Sirridge spent the remainder of her career in numerous roles at the School.
She was highly active in health-related activities at all levels and served on many community-related boards. Among a long list of medical-related honors, Sirridge received the Alma Dea Morani, MD Renaissance Woman Award from the Foundation for the History of Women in Medicine in 2010. Her civic efforts were also recognized with many awards and honors including the Outstanding Kansas Citation and the Kansas City Career Woman of the Year awards.
View current listings under In Memoriam