Thank you for attending the 2022 ASBH Annual Conference in Portland, OR!
Below are some frequently asked questions that may be helpful as you prepare to attend the conference and navigate our online schedule and conference app.
Conference FAQ
By registering to attend the conference, you agree to the following policies and information.
What kind of health and safety protocols will be in place for the ASBH 2022 Annual Conference?
As a participant, you have agreed to adhere to all health and safety protocols put in place by ASBH for the 24th Annual Conference. To minimize risk associated with COVID-19 exposure and other transmissible airborne viruses, all participants (attendees, speakers, exhibitors, and staff) are expected to adhere to the following safety expectations and protocols when attending the 2022 ASBH Annual Conference in Portland, Oregon. These expectations are aligned with the most recent Centers for Disease Control (CDC) COVID-19 guidance to protect against severe illness released on August 11, 2022. As it is not possible to eliminate all risk of infectious disease, attendees will participate in the conference at their own risk.
Participants are expected to:
Be up to date on COVID-19 Vaccinations upon arrival in Portland. The CDC defines "up to date" as "when you have received all doses in the primary series and all boosters recommended for you, when eligible."

CDC: What You Need to Know

provides a tool that will help individuals determine if they are considered "up to date".

Wear a high-quality mask when indoors in public areas when not consuming food or drink. Masks must cover your nose and mouth, fit under your chin, and be snug on your face. ASBH recommends the use of K95 or KN95 masks. ASBH will also have high-quality masks available on-site at registration.

Respect social distancing. Meeting rooms will be set up to balance maximum attendance and social distancing. Participants will respect social distancing to the degree possible in each meeting room and venue. You are expected to respect directions when it is necessary for staff to limit entry to meeting rooms to allow for social distancing.

Take a COVID-19 test 48 hours prior to attending the conference.

Do not attend the conference if you've tested positive for COVID-19 and/or are experiencing COVID-19 symptoms 5 or fewer days prior to your planned arrival for the annual meeting. ASBH will provide registration refunds, less the $75 processing fee, for anyone who must cancel their registration due to a positive COVID-19 test, or is

experiencing symptoms

, 5 or fewer days prior to planned arrival. ASBH will not refund or reimburse travel or other expenses related to attending the conference.

Take advantage of onsite rapid testing for COVID-19 provided by the Oregon Convention Center if you experience symptoms or feel that you have been exposed to someone with COVID-19. ASBH requires you cease participation in, and remove yourself from, all conference activities if you test positive or exhibit severe symptoms during the conference.

Understand that ASBH reserves the right to update or modify these health and safety protocols as determined appropriate to minimize the risk of severe illness.

Agree that any attendee who fails to comply with the terms and conditions of these health and safety protocols may lose their right to attend the ASBH Annual Conference and be subject to removal from the conference premises at the direction of ASBH staff.

Adhere to the ASBH Productive Engagement Policy.
What is ASBH's Productive Engagement Policy?
ASBH supports an environment of productive engagement, where the free expression of diverse points of view occurs in an atmosphere of scholarly exchange and mutual respect. Conference attendees, participants, and vendors are expected to observe commonsense norms for public behavior, personal interaction, and common courtesy. Abusive, harassing, or threatening behavior is not acceptable.
The expectation for productive engagement applies to all ASBH programs and activities. ASBH encourages those who experience or witness a breach of this policy to communicate concerns directly with those involved in the incident when possible and safe. In attempts to resolve such issues, respectful dialogue and sensitivity are often the most effective means.
Alleged breaches in expectations may be brought to the attention of any ASBH board member or staff member. If leaders or staff members are notified of an incident, it will be elevated to the ASBH Board President and Executive Director to determine the appropriate action, and if necessary, notify the appropriate authorities. It is not within the purview of ASBH nor does ASBH have any authority to intervene in alleged complaints or violations that take place outside of ASBH activities or within a particular institution or organization.
Why did ASBH plan a fully in-person conference?
The evolving nature of the COVID-19 pandemic requires decision-making in an environment of uncertainty. Read the Board of Directors' full statement on their decision here.
The state of Oregon allows for open and concealed carry of guns. Will guns be allowed in the Oregon Convention Center during the ASBH Conference?
No, ASBH prohibits open- or concealed-carry of guns into any ASBH Annual Conference event.
How are registration rates determined?
Registration rates are set by the Board of Directors each year during the budgeting process. The Board balances the need to cover conference expenses with the desire to keep registration rates accessible and comparable with similar interdisciplinary conferences.
How can I get a discount on ASBH Annual Conference registration?
There are a number of ways to save on your Annual Conference registration. ASBH offers discounted rates for students and members. If you decide not to become a member, you can still receive a $100 discount by registering before the early-bird deadline on September 23.
Do speakers need to register for the conference?
All speakers need to be registered for the conference in order to present. Speakers who have gone through the abstract submission process must register by a specific deadline in order to reserve a spot in the conference schedule. Visit the conference page for more information on registration deadlines.
How can I get an accommodation for an accessibility, dietary, or religious need?
At the end of the proposal submission form, you will find a place ot request any special accommodations necessary for you to be able to present at the conference. Please contact ASBH's Education and Operations Coordinator, Lauren Winters, at This email address is being protected from spambots. You need JavaScript enabled to view it. regarding any further accommodations.
May I include speakers outside the fields of bioethics and the health humanities in my conference proposal?
ASBH's Guest Speaker Policy allows for speakers outside the fields of bioethics and the health humanities to offer a unique point of view at the Annual Conference. Designated Guest Speakers may attend the session at which they are presenting without paying registration fees, with the understanding that they will attend only the session in which they are presenting. This designation is limited to nonmembers who otherwise would not attend the ASBH Annual Conference and who either (1) work in a governmental, industry, or comparable capacity not directly related to bioethics or the health humanities and would bring a unique point of view; or (2) represent patients and/or family members who have a connection to the topic being presented.
To submit a request for the Guest Speaker designation, send an email to This email address is being protected from spambots. You need JavaScript enabled to view it. with the desired guest's name, email, and an explanation of their qualification for the designation.
How can my co-presenters submit a conflict of interest (COI) disclosure form?
After conference decisions have been sent out, all co-presenters will be prompted to complete a COI disclosure form via the email listed on the proposal submission. All co-presenters must complete the form by the specified deadline in order for the proposal to remain in the conference schedule.
How can I receive continuing education (CE) credit for the conference?
To claim CE for the Annual Conference, you must purchase CE credit at the time of registration, attend the live event, and complete evaluations following the event. ASBH typically offers Continuing Medical Education credit, Continuing Nursing Education credit, Professional Continuing Education credit, and Social Work credit.
Can I present remotely or pre-record my presentation?
All presentations must be presented live and in-person. If you are unable to attend your assigned session in person, please notify Lauren Winters at This email address is being protected from spambots. You need JavaScript enabled to view it. as soon as possible. You may designate another presenter to give a presentation in your place before October 1. To do so, send the new presenter's name, credentials, institution, and email address to This email address is being protected from spambots. You need JavaScript enabled to view it.. This presenter will need to complete a Conflict of Interest disclosure and register for the conference.
Virtual Schedule and Conference App
How do I access the conference planner?
From your computer: Click the link below to enter the virtual planner. Click login. Use the email and password that you registered with. Please make sure pop-ups are allowed. A new window will pop-up that prompts to login using the email you registered for the conference. If a window does not open, look in the URL bar to see if pop-ups were blocked, if you see a picture like the below, click to allow popups.

From your phone or tablet: download the Event Pilot app in the app store.
Once downloaded, you can search for our event by entering ASBH in the search bar. Select ASBH22 and click download. The app and the above website will sync your schedule and meeting information. Click login. Use the email and password that you registered with. Please make sure pop-ups are allowed.
We are using the same app that was utilized for the ASBH 2021 Virtual Conference. If you participated in 2021 and still have the app downloaded, in the app, click the three dots at the bottom right that say "More", select "Find Event", and search ASBH22 to update to the current event.
How do I access and use the conference schedule?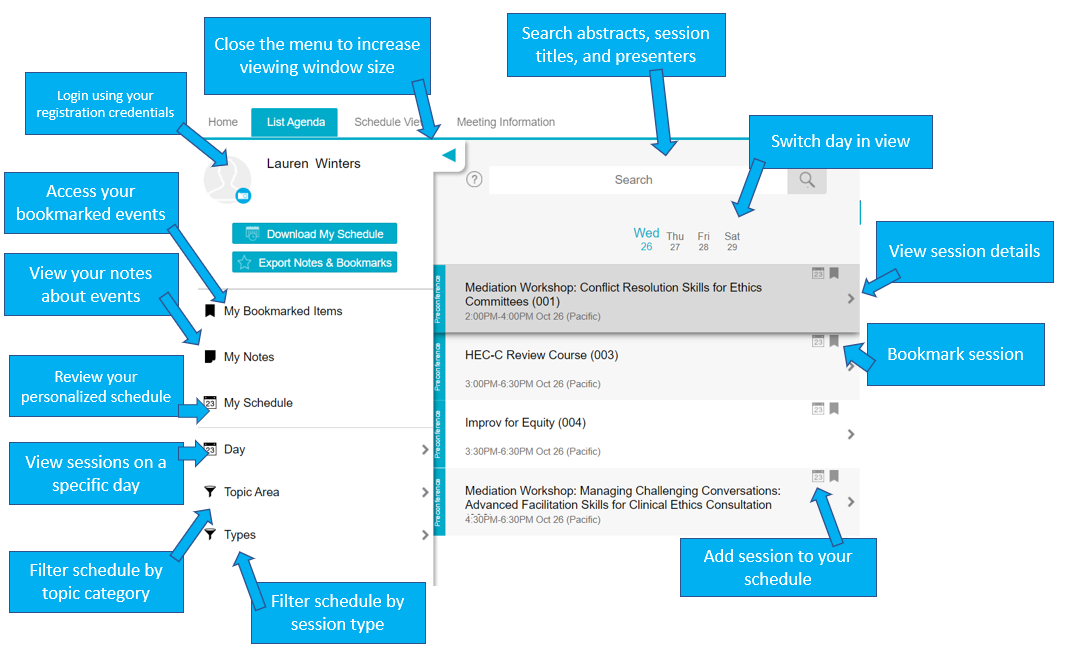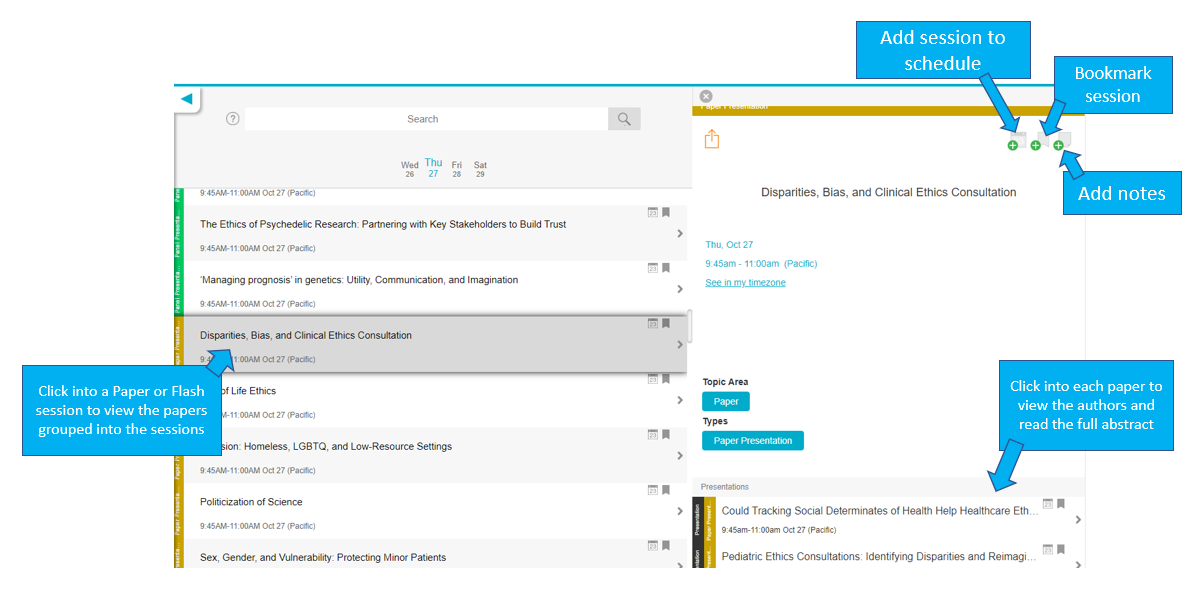 How do I view my schedule?
From the home page, click the "My Schedule" blue button.
From the agenda, on the left-side panel, click the "My Schedule" button under your name in the filter area.

Once your schedule is built, you have the option to download your schedule to a PDF, iCal file (for your outlook calendar), or CSV Spreadsheet.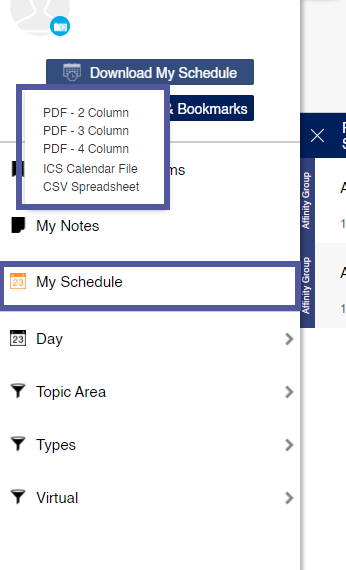 What is my login information?
Your login information is the same email and password used to register for this meeting. If you have any difficulties or cannot remember, please email This email address is being protected from spambots. You need JavaScript enabled to view it..
Where can I find the session schedule and information on each session?
The session schedule is available from the "Schedule View" or "List Agenda" tabs on the virtual planner. Sessions can be sorted by Day, Type or Tracks, and you can search for specific speakers, session titles, or abstracts.
Are the sessions recorded?
The concurrent sessions will not be recorded. All presenters and attendees are expected to attend the conference in-person in Portland, OR.