Articles
Save the Date
ASBH 20th Annual Conference
October 18-21, 2018
Disneyland® Hotel
Anaheim, CA
ASBH thanks everyone who helped make the 2017 conference such a success. Join ASBH for more information about the 2018 ASBH conference, including the call for proposals and registration.
2017 Lifetime Achievement Awards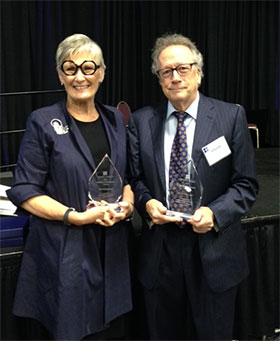 Myra Christopher and Steven Miles, MD were both awarded a Lifetime Achievement Award in 2017.
2017 Cornerstone Awards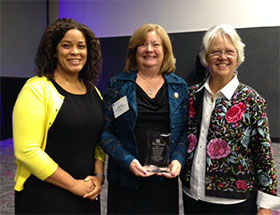 Liz Stokes, JD MA RN, Senior Policy Advisor; Laurie Badzek, LLM JD RN FAAN, Director; Martha Turner, PhD RN-BC FAAN, Assistant Director accepted the Cornerstone Award on behalf of The ANA Center for Ethics and Human Rights.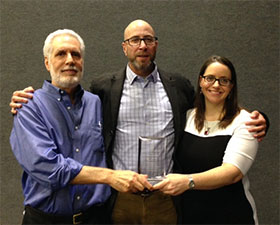 Martin Kohn, PhD and Erin Lamb, PhD, pictured with Jay Baruch, MD (center), accepted the Cornerstone Award on behalf of The Center for Literature and Medicine.
Kansas City Attractions
National World War I Memorial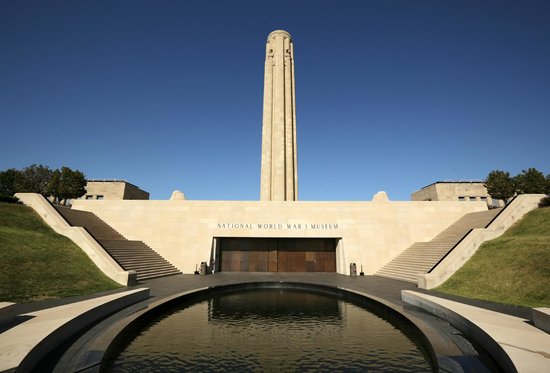 The National World War I Museum and Memorial is America's leading institution dedicated to remembering, interpreting, and understanding the Great War and its enduring impact on the global community.
Union Station

Architectural Masterpiece. Living History. A place for great adventure. Where Kansas City Connects. All of these phrases – and more – are regularly used to describe Union Station. Visitors of all ages, from all places, and for all reasons tie Union Station to special and magical moments in their lives.
Boulevard Brewing Company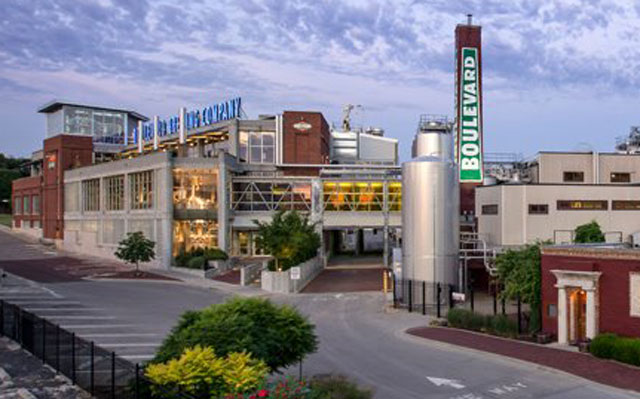 Founded in 1989, Boulevard Brewing Company has grown to become the largest specialty brewer in the Midwest. Its mission is simple: to produce fresh, flavorful beers using the finest traditional ingredients and the best of both old and new brewing techniques. The best way to soak in the culture is to join a tour.
Nearby Activities
Discover a world of vibrant arts & other local attractions, delicious dining, and Midwest hospitality at its finest.
ASBH 20th Annual Conference
October 18-21, 2018
Anaheim, CA
Program Theme
The Future is Now: Bioethics and Humanities Re-Imagine an Uncertain World
Submit a Proposal
Proposals are being accepted for the ASBH 20th Annual Conference.
Review the call for proposals for the full conference theme, full session descriptions and important information regarding submitting your proposals. In order to submit any proposal, you will be prompted for your ASBH website login credentials; if you do not have an ASBH website account, you will have the opportunity to create one.

Submit a proposal for a pre-conference workshop, panel presentation or workshop.
Pre-Conference Workshops: These 3.5 hour sessions are offered as extra-cost events before the beginning of the Annual Conference proper.
Workshop: Designed for instruction and interaction in a 90-minute session. These sessions are limited to 4 presenters, preferably from multiple disciplines and institutions.
Panel Presentation: Compare and contrast a variety of perspectives on a cohesive theme or includes presentations that are cross-disciplinary and build on one another. Limited to 4 presenters and can be 60 or 90 minutes. One of these 4 presenters will serve as a moderator.

Submit a proposal for a flash or paper session.
Paper Presentation: One individual will have 15 minutes to present a discussion or lecture based on a work-in-progress or a paper whose central, substantive content has not been previously published, followed by 5 minutes to address questions from the audience.
Flash Presentation: In this "flash" presentation format, individuals will have 5 minutes to present 3 slides. Members of the ASBH Board of Directors and Program Committee will moderate presentations and interactions with the audience by approximately 10 individuals in a 60-minute session. This format replaces poster presentations.
Review and Notification
ASBH uses a rigorous 3-stage review process:
All submissions are reviewed anonymously by an average of three ASBH members recruited for their expertise in the topic category selected. Each reviewer is asked to score the proposal on a 5-point scale considering contribution to existing knowledge; innovation, cutting-edge, and novelty; presentation of innovative solutions to current issues in the fields of bioethics and humanities; cross-disciplinary approaches; and quality of the written proposal.
At the second stage of the process, one experienced reviewer for each category assesses all of the individual and average scores throughout that category, taking into consideration factors such as significance, innovation, relevance, breadth of topic, and appropriateness for the meeting.
Finally, in a face-to-face meeting, the Program Committee—with access to all of the previous assessments—selects the strongest proposals that address topics of interest to a multidisciplinary community. The committee then considers balance among the categories and subjects, and scans for unique or unusual topics. At this stage, the names of all presenters are revealed to ensure compliance with the two-presenter rule.
The program committee may accept some proposals in a different format, e.g., a proposal submitted as a 20-minute session may be accepted as a 5-minute presentation.
Notification of a proposal's status is sent via email in late May.
Past and Future Annual Conferences
23rd Annual Conference
October 14-17, 2021
Indianapolis, IN
22nd Annual Conference
October 15-18, 2020
Baltimore, MD
21st Annual Conference
October 24-27, 2019
Pittsburgh, PA
20th Annual Conference
October 18-21, 2018
Anaheim, CA
Theme: The Future is Now
19th Annual Conference
October 19-22, 2017
Kansas City, MO
Theme: Journey to the Center

18th Annual Conference
October 6-9, 2016
Washington, DC
Theme: Where Do We Stand? Critical Distance in Bioethics and Medical Humanities
Session Recordings
17th Annual Conference
October 22-25, 2015
Houston, TX
Theme: Ethics and Creative Expression
Session Recordings
16th Annual Conference
October 16-19, 2014
San Diego, CA
Theme: Interprofessional & Inclusive Bioethics & Humanities?
Session Recordings
15th Annual Conference
October 24-27, 2013
Atlanta, GA
Theme: Tradition, Innovation, and Moral Courage
Session Recordings
14th Annual Conference
October 18-21, 2012
Washington, D.C.
Theme: Representing Bioethics
Session Recordings
13th Annual Conference
October 13-16, 2011
Minneapolis, MN
Theme: Generation(s) and Transformation(s)
Session Recordings
12th Annual Conference
October 21-24, 2010
San Diego, CA
Theme: Health and Community
Session Recordings
11th Annual Conference
October 15-18, 2009
Washington, D.C.
Theme: Translating Bioethics and Humanities
Session Recordings
10th Annual Conference
October 23-26, 2008
Cleveland, OH
Theme: Future Tense
Session Recordings
9th Annual Conference
October 18-21, 2007
Washington, D.C.
Theme: Connecting & Collaborating
8th Annual Conference
October 26-29, 2006
Denver, CO
Theme: Challenging Voices
7th Annual Conference
October 20-23, 2005
Washington, D.C.
Theme: Suffering and Justice
6th Annual Conference
October 28-31, 2004
Philadelphia, PA
ASBH-Canadian Bioethics Society (CBS) Joint Conference
October 22-26, 2003
Montreal, QC, Canada
Theme: Bioethics Across Borders
5th Annual Conference
October 24-27, 2002
Baltimore, MD
4th Annual Conference
October 25-28, 2001
Nashville, TN
3rd Annual Conference
October 26-29, 2000
Salt Lake City, UT
2nd Annual Conference
October 28-31, 1999
Philadelphia, PA
1st Annual Conference
November 18-22, 1998
Houston, TX