NEW! Case-Based Study Guide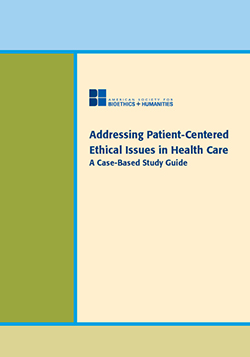 In Addressing Patient-Centered Ethical Issues in Health Care: A Case-Based Study Guide, a new ASBH publication, 12 complex cases are presented just as they unfold in the clinical setting: Each case is interrupted at several junctures to ask questions of the reader, making it a critical resource in a variety of settings. Use it
as a means of self-education, asking yourself "What would I do next?" to build your skills and competencies
as a teaching tool, to prime critical thinking as the ethically appropriate options evolve
for quality improvement discussions among ethics consultants or ethics committee members
to assess a job candidate's abilities to reason through a case as it pivots, or to discern consultants' abilities to evaluate ethical options.
HCEC Certification Update
Come to the annual meeting to hear about the development of a certification program.