Books
ASBH members receive discounts on all publications.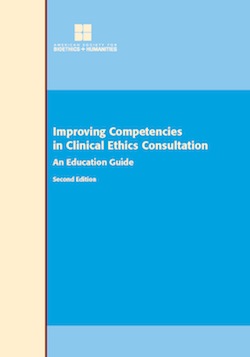 Improving Competencies in Clinical Ethics Consultation: An Education Guide, 2nd Edition
This guide offers specific objectives and learning strategies for achieving the competencies outlines in Core Competencies in healthcare Ethics Consultation. It is intended to be used by providers of ethics consultation in healthcare settings including hospitals, nursing homes, and rehabilitation facilities; by healthcare professionals who have volunteered or been recruited to serve on ethics committees; and by universities and academic medical centers in developing ethics consultation education and training programs. Order your copy today!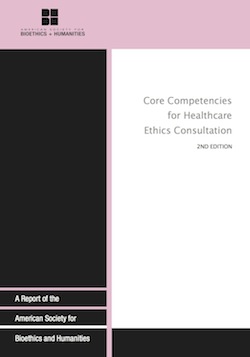 Core Competencies in Healthcare Ethics Consultation, 2nd Edition
This 57-page monograph is intended for ethics consultants; educational programs that help prepae individuals, teams, or committees to do ethics consultations; and all health care organizations that offer ethics consultation services. Order your copy today!
Code of Ethics and Professional Responsibilities for Healthcare Ethics Consultants
All those who are engaged in or interested in the practice of health care ethics consultation are invited to download and use the ASBH Code of Ethics and Professional Responsibilities for Healthcare Ethics Consultants.
Introduction to the Code of Ethics
This PowerPoint presentation is a special benefit to ASBH members who want to learn themselves or teach others about the responsibilities of healthcare ethics consultation. It describes the process used and rationale for developing the Code of Ethics and its key elements, and identifies opportunities and strategies for using the Code.
Join ASBH now to take advantage of discounts and many other benefits of membership.