Healthcare Ethics and Medical Humanities Books
ASBH members receive discounts on all publications. Quantity discounts are also available.
A Case-Based Study Guide for Addressing Patient-Centered Ethical Issues in Health Care
This study guide provides an unfolding approach to 12 cases—9 involving adult patients, 3 involving minors—on various topics in clinical ethics. The presentation of these complex cases mimics the way that they evolve incrementally in the clinical setting: Patient and family narratives are interwoven with skills-based, reflective study questions that encourage critical thinking on the part of ethics consultants, ethics committee members, students, and other healthcare professionals.
The authors--the members of the ASBH Clinical Ethics Consultation Affairs (CECA) Committee--have included tips related to communication and decision making in medicine, including strategies for guiding fruitful patient reviews, elucidating patients' or surrogates' concerns or perspectives, and conducting family meetings. This resource will be useful to all healthcare professionals and students seeking to build their competencies, from the basic skills used to address common ethical issues to advanced consultative skills that can be used to address complex ethical concerns.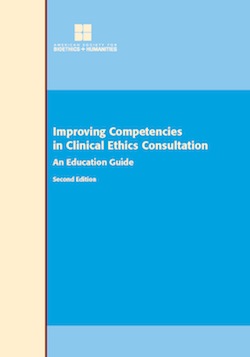 Improving Competencies in Clinical Ethics Consultation: An Education Guide, 2nd Edition
This guide helps those currently involved in ethics consultation to undertake a self-education program to develop and improve their knowledge and skills. It outlines learning strategies for achieving the competencies outlined in Core Competencies in Healthcare Ethics Consultation and is intended to complement and support traditional educational programs.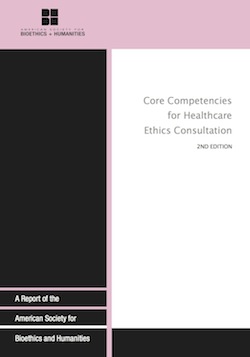 Core Competencies in Healthcare Ethics Consultation, 2nd Edition
This essential resource is intended for ethics consultants; educational programs that prepare individuals, teams, or committees to do ethics consultations; and all health care organizations that offer ethics consultation services to inform the development and evaluation of competencies and ethics consultation services, as well as the design of education programs.
Resources for Developing Advanced Skills in Ethics Consultation
Clinical healthcare ethics consultants (HCECs) must feel comfortable working with patients, families, and healthcare professionals alike. They must be able to interpret others' verbal and nonverbal cues and be able to respond promptly both to crises and to situations that change incrementally over time.
This compendium of resources is intended to help HCECs develop these and other advanced skills needed by those leading ethics consultations and conducting complex consultations. It is intended to be an evolving resource, so feedback is invited. Readers may send their comments and suggestions to This email address is being protected from spambots. You need JavaScript enabled to view it. .
Code of Ethics and Professional Responsibilities for Healthcare Ethics Consultants
All those who are engaged in or interested in the practice of health care ethics consultation are invited to download and use the ASBH Code of Ethics and Professional Responsibilities for Healthcare Ethics Consultants.
Introduction to the Code of Ethics
Bioethics consultants, members of ethics committees, and students are welcome to download this PowerPoint presentation to learn themselves or teach others about the responsibilities of healthcare ethics consultation. These slides describe the process used and rationale for developing the ASBH Code of Ethics and Professional Responsibilities for Healthcare Ethics Consultants Code of Ethics and its key elements, and identify opportunities and strategies for using the Code.
Join ASBH now to take advantage of discounts and many other benefits of membership.