Eligibility for Healthcare Ethics Consulting Certification
To be eligible for the HEC-C program and to sit for the exam, you will need:
a minimum of a Bachelor's Degree; and
400 hours of healthcare ethics experience—related to the major domains of the content outline—within the previous 4 years.
Those who demonstrate the requisite practice experience and pass the certification examination will achieve the HEC-C credential. The HEC-C program differs from existing certificate and degree-granting healthcare ethics programs because it underscores your practice experience and assesses your core knowledge and skillset in clinical healthcare ethics consulting—separate from a predefined course or curriculum. Practicing healthcare ethics consultants may be eligible to become certified even in the absence of a certificate or academic coursework.
Eligibility Rationale
The HCEC Certification Commission considered the following data and information when determining program eligibility criteria:
National Commission for Certifying Agencies (NCCA) Standards for the Accreditation of Certification Programs.
Data obtained through ASBH's 2017 Role Delineation Study of the healthcare ethics consultant.
Environmental scan of other healthcare-related multi-disciplinary professions offering certification.
The HCEC Certification Commission placed an emphasis on NCCA standards with the goal of applying for the accreditation of the HEC-C program following a year of administration. NCCA standards for initial certificant eligibility state the following:
"[The certifying body] must provide a rationale, either qualitative and/or quantitative, for all eligibility requirements. Prerequisites may be used to set a minimum requirement to be eligible for certification. There should be a clear explanation, along with any relevant data if available, as to why the requirements (e.g. educational, experiential, holding another credential or a combination) are established" (Source: NCCA's Standards for the Accreditation of Certification Programs).
Moreover, the 2017 Role Delineation Study was integral in conceptualizing the roles of healthcare ethics consultants and determining the most appropriate guidelines for eligibility. Of the 846 individuals self-identifying as healthcare ethics consultants, approximately 96% of respondents felt that the study at least adequately addressed the responsibilities of healthcare ethics consultants.
Finally, it was crucial that the HEC-C program's eligibility requirements were designed with consideration to those of various other healthcare-related, multi-disciplinary professions offering certification. As a result, being eligible for the HEC-C program requires a combination of education and experience in the field.
Education
The 2017 Role Delineation Study shows that most common degree among respondents is a baccalaureate (49.4% of respondents). The HCEC Certification Commission established a Bachelor's Degree as the minimum degree to qualify for the HEC-C program.
| | Frequency | Percent |
| --- | --- | --- |
| Baccaluareate | 427 | 49.4 |
| MA | 292 | 33.8 |
| MSN | 79 | 9.1 |
| MS | 133 | 15.4 |
| MPH | 34 | 3.9 |
| MBA | 28 | 3.2 |
| Mdiv | 96 | 11.1 |
| PhD | 239 | 27.7 |
| EdD | 5 | 0.6 |
| DNP | 10 | 1.2 |
| DHCE | 14 | 1.6 |
| JD | 58 | 6.7 |
| MD | 236 | 27.3 |
| DO | 7 | 0.8 |
| Pharm D | 2 | 0.2 |
| DDS | 3 | 0.3 |
| STD | 4 | 0.5 |
| Total | 1,667 | 192.9 |
Table 2. Which of the following degrees do you hold? Select all that apply. (N=845) (Source: 2017 Role Delineation Study)
Experience
Using data from the Role Delineation Study, the HCEC Certification Commission determined that healthcare ethics consulting experience must be considered in two categories: experience in years as well as hours per week.
First, the largest group of respondents (36.1%) indicated 4–10 years of healthcare ethics consulting experience.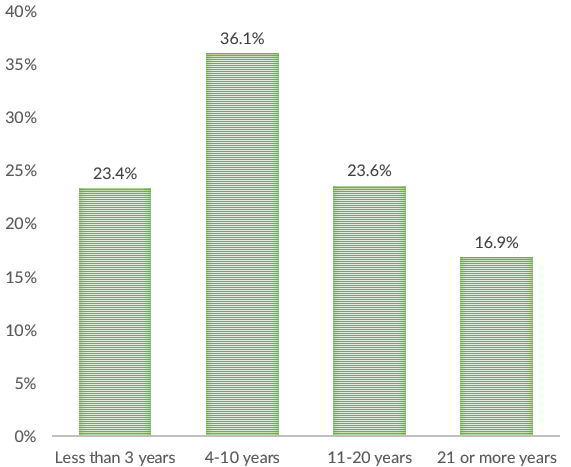 Figure 4. How many years have you worked as a health care ethics consultant? (Source: 2017 Role Delineation Study)
Secondly, the study shows that a majority (74.4%) of survey respondents indicated that they spend 0-25% of their time (0-10 hours/week) devoted to health care ethics consultation.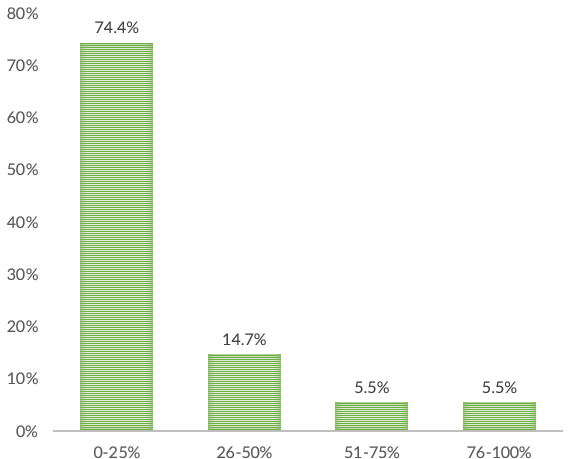 Figure 10. What percentage of your time is devoted to health care ethics consultation? (Source: 2017 Role Delineation Study)
Therefore, it was established by the HCEC Certification Commission that a minimally-qualified candidate must engage in healthcare ethics consulting for at least two hours per week over a four-year period. The largest group of study respondents fell into this category.